Adorable PSVR puzzle adventure Ghost Giant heading to Oculus Quest next month
In high spirits.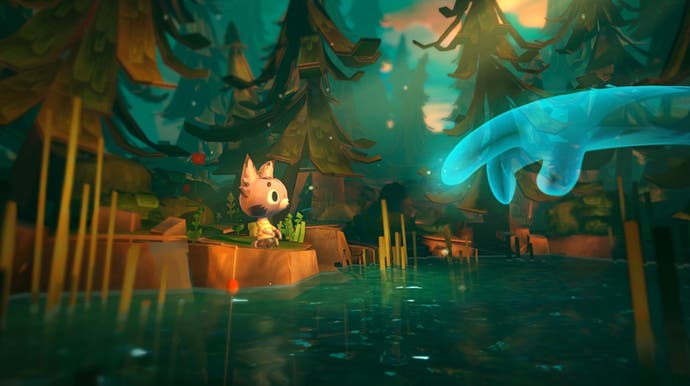 Ghost Giant, the adorably spooksome - and previously PSVR-exclusive - puzzle adventure from Stick It To the Man developer Zoink Games, is making its way to Oculus Quest in December.
Ghost Giant - a collaboration with Swedish writer Sara Bergmark Elfgren - tells the story of Louis, a lonely young boy living on a secluded sunflower farm. Rather than controlling Louis directly, however, players are cast as a towering supernatural presence and must manipulate the world to help Louis assist the local residents of his nearby town.
From a presentation perspective, Ghost Giant is a wonderful thing, rendering the town of Sancourt as an eccentric jumble of paper-craft scenery. As for the game itself, it blends light interactive puzzling with gorgeously produced, but rather more passive, story segments.
"Rather than feeling bored and fidgety like I normally do in stationary VR sections like this," said Eurogamer's Ian Higton following his time with the game earlier this year, "in Ghost Giant I was enthralled by the life and personality of not only the characters and animation, but the locations too. The level of detail is incredible, the model villages that make up the levels of Ghost Giant are stunning in VR. No matter where you look, there's always something cool to find."
Unfortunately, Ian was less impressed with the game's sometimes fiddly, frustrating motion controls, which made exclusive use of the PSVR Move. Hopefully that's something Zoink has managed to address as part of Ghost Giant's transition to Oculus Quest.
There's no specific release date for Ghost Giant just yet, beyond the vague mention of "December", and there's no word on whether the game might eventually make its way to other PC VR devices too. Hopefully, though, Zoink will have more to share soon.