Adorable dinosaur theme park sim Parkasaurus leaves early access next month
That's a wrap(tor).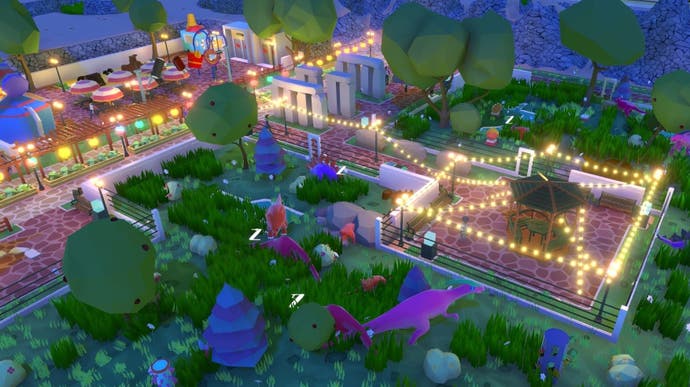 Developer Washbear Studio's exceedingly enjoyable, and thoroughly adorable, dinosaur theme park sim Parkasaurus will be waving goodbye to Steam Early Access and getting its Version 1.0 release on 13th August.
Washbear initially launched Parkasaurus into early access at the tail-end of 2018 and the developer has been steadily adding new features and finessing the experience since. Even back in 2018, though, it was a bit of a joy, delivering a light-hearted - but still remarkably rich - spin on the classic theme park management formula, offering plenty to get to grips with along the road to creating the ultimate prehistoric tourist attraction.
You'll need to hire and train staff, maintain stock, tweak prices, and scour visitors' feedback in order to get them to open their wallets wide, and Parkasaurus also offers a wealth of layout and landscaping options, decorations, shops, and facilities - with more unlockable through research - to ensure everything looks and runs exactly as you please.
The real stars of the show, of course, are the exhibits, and Parkasaurus delivers on that front too, albeit in its own distinctly cute way. Terrain types, water levels, and scenery must all be taken into account as you attempt to create the perfect habitats for your adorable dinosaurs, and it's advisable to keep an eye on privacy requirements, food, and socialisation needs too if you want to ensure your menagerie doesn't get miffed and attempt to eat the guests.
More dino types can be discovered by sending crack teams of scientists back in time (which results in a nifty little archeology mini-game to acquire fossils), and, perhaps most importantly, it's possible to collect hats. For your dinosaurs!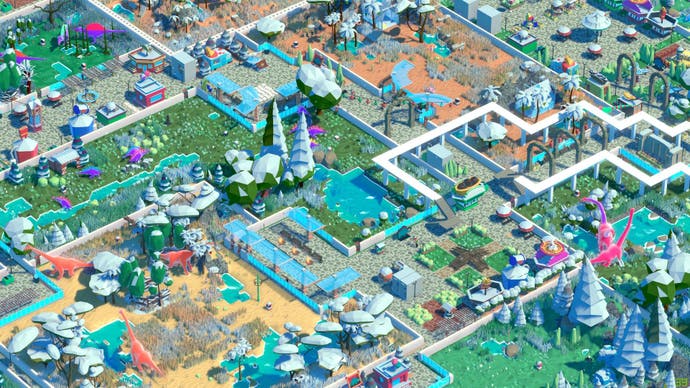 Over the last year, Washbear Studio has been beavering away on Parkasaurus' mission-based campaign, which is designed to add more structure and challenge to the freeform building of sandbox mode, and this is due to receive a notable expansion come 13th August. Parkasaurus' Version 1.0 release will offer a full campaign, plus new modes, more dinosaurs, and enhanced exhibit design features, according to Washbear, with additional details to come.
The developer also notes Parkasaurus will maintain its current price of £18.99/$24.99 USD when it gets its full Steam release, but there'll be a 20% early bird discount at launch.