Star Wars Battlefront 2 Celebration Edition leaks online
UPDATE: Confirmed.
UPDATE: EA has confirmed the Celebration Edition of Star Wars Battlefront 2, releasing on 5th December. The Rise of Skywalker content will launch for all players on 17th December.
ORIGINAL: Star Wars Battlefront 2 is well over two-years-old at this point, but DICE isn't done updating the shooter just yet. A new leak paints a pretty convincing picture of a Celebration Edition of Battlefront 2 releasing later this week.
The leak originates from TrueAchievements.com, and claims the Celebration Edition of Battlefront 2 releases on 5th December. The upgraded edition reportedly features all past and future updates, including heroes Rey and Finn, villain Kylo Ren, and cosmetic appearances for regular foot soldiers.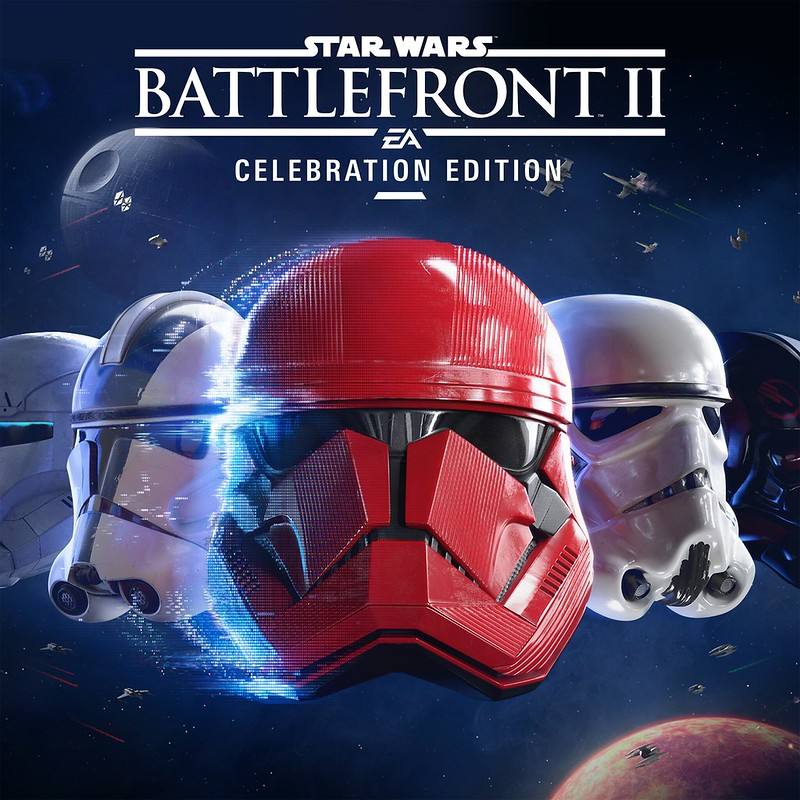 As DICE detailed last week, there are two updates scheduled for Battlefront 2 during December, one of which is slated for release on 5th December, the same day the Celebration Edition of Battlefront 2 supposedly releases.
The update on 5th December focuses on "quality of life changes", making user interface adjustments such as decreasing the size of the damage marker, as well as adding 10 new appearances in total for various characters, including the ARC Troopers, Commando Droids, Clone Commandos, and the Droideka. It's the later update in December that's due to bring in Rise of Skywalker content to Battlefront 2.
The leaked box art for the Celebration Edition features a Sith Trooper's helmet on the cover, one of the new additions for the First Order in Rise of Skywalker. The product description for the new edition of Battlefront 2 also claims the Rise of Skywalker content, including the Sith Troopers and "an exotic new battlefront", will launch on 20th December.
Although this edition of DICE's shooter shares a name with the mega-popular Star Wars Celebration event, there's no link between the two. Star Wars Celebration takes place every April in the US, although next year it takes place on 27th August, in Anaheim, California. This is usually where Disney shows off a new trailer for a forthcoming Star Wars film, although what comes next after Rise of Skywalker releases this month is still a mystery.