A few missed morsels from the PC Gaming Show
RAM these in your eyes.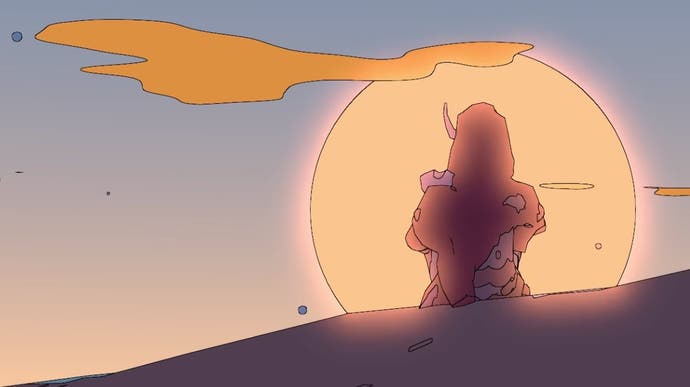 Sandwiched between the major publisher E3 conferences and Sony last night was the PC Gaming Show. We wrote a few stories - there was a Shark RPG, Overkill's The Walking Dead got a release date, two Yakuza games and Valkyria Chronicles 4 are coming to Steam, Oculus and Insomniac showed open-world VR game Stormlands, and Factorio/No Man's Sky mash-up Satisfactory looked very impressive - but we missed others in the din.
One of the most eye-catching games missed was Sable, a gorgeous graphic novel-looking adventure in a huge science-fiction desert. The colour-blocked scenery is striking as you glide across the dunes on your sci-fi bike and then tread carefully into huge alien ruins.
Sable is made by small studio Shedworks with notable help from 80 Days writer Meg Jayanth. Raw Fury is publishing Sable on PC next year.
Raw Fury had another intriguing announcement in Night Call, an uber-stylish Parisian black-and-white taxi game where really you're more concerned with investigating your fares in order to stop a serial killer on the loose. It's made by developers Monkey Moon and Black Muffin, and is coming to PC and consoles early 2019.
We saw the gameplay reveal of acclaimed Skyrim-mod-turned-standalone-full-game The Forgotten City. It's a time travel murder mystery set in a mythological city where you can manipulate time as in Groundhog Day, setting off differing chains of events for differing consequences.
The Forgotten City mod has been downloaded by more than 1.6 million players, apparently, and is the first mod ever to receive a Writers Guild award.
The Forgotten City is made by Australian developer Modern Storyteller and is coming 2019.
Noita (the Finnish word for witch) looked very interesting. On the surface it's a pixely platform adventure which follows a witch exploring big and dangerous caves. But the clever part is it simulates every pixel of the level, meaning you can manipulate it all with your magical ways. You can blow great chunks to smithereens in one blast, or corrode your surroundings - and yourself if you're not careful - to nothing in the blink of an eye.
Noita is a procedurally generated roguelite, so you can replay endlessly and it will be different each time, and apparently you can also make your own spells. Noita is made by teeny Finnish developer Nolla and will be available "when it's done". An early access release is part of the plan.
Elsewhere, Rapture Rejects puts an interesting spin on the 100-player battle royale genre by going isometric and being set in the Cyanide & Happiness web comic world...
And Double Fine's Ooblets, a farming and creature-collection game due this year on PC and Xbox One, makes us feel all warm and cuddly inside.