'80s slasher movie puzzler Slayaway Camp is out on Xbox One and PS4 this week
Give it a butchers.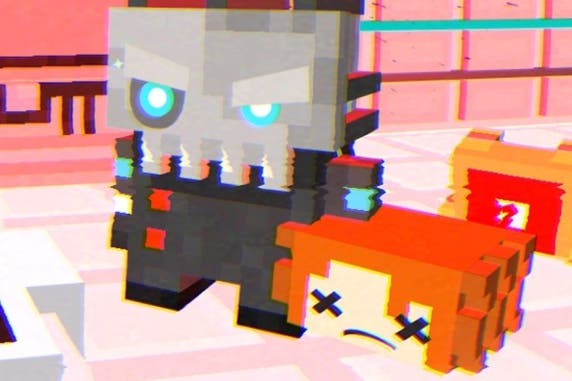 '80s-slasher-movie-themed puzzler Slayaway Camp is rampaging onto Xbox One and PlayStation 4, starting this week.
Slayaway Camp is the first game from Blue Wizard Digital - an indie studio set up by PopCap co-founder Jason Kapalka - and originally launched on PC last year.
It plays out something like a classic sokoban sliding block puzzle game. Only, instead of being a no-name protagonist charged with nudging crates around a board, you're a demonic serial killer tasked with murdering every horny teen and innocent bystanders on the map before you can clock off for the day and return to hell.
Unlike the Freddys and Jasons of this world, however, you can only move in the four cardinal directions, making your murder sprees a little bit more challenging.
It's a super-accessible, surprisingly fiendish, yet oddly relaxing diversion, and one that's elevated considerably by its extremely silly '80s video nasty vibe.
Puzzle campaigns unfold like mini slasher movies, and the level select screen is even designed to resemble VHS tapes lined up on the shelf of a grotty old video store; there are loads of outlandish serial killers and gleefully grotesque cinematic finishing moves to unlock - albeit inoffensively rendered in the game's blocky art style - and it's all given an appropriate aesthetic flourish with wobbly VHS picture filters, and a woozy synth soundtrack.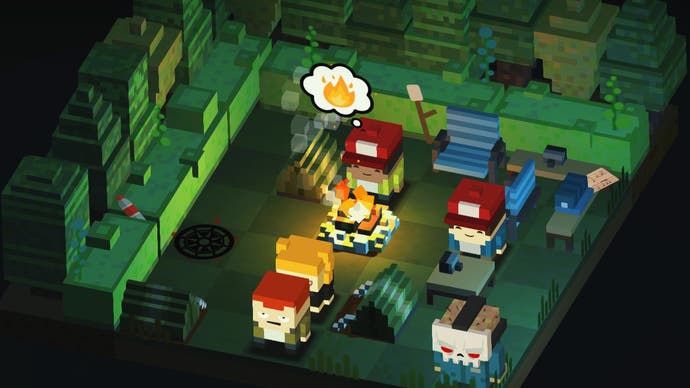 The new console version, known as Slayaway Camp: Butcher's Cut, packages up everything released on PC so far - that's the based game, plus the Deluxe Edition, My Gory Valentine, HellCamp, Monthly Murderers Series 1 & 2, Supernatural Forces, and Santa's Slay expansion packs. That equates to 300+ puzzles, 60+ unlockable killers, and 90 murder moves.
Slayaway Camp: Butcher's Cut is out today on Xbox One in Europe and North America, and currently costs a slightly discounted £10.19 / $12.74 USD. On PS4, it arrives in North America tomorrow, October 24th, and on November 1st in Europe.