Zlatan Ibrahimovic's agent hangs up in spicy radio interview after saying FIFA 21 image rights row is "all about money"
Quick sub.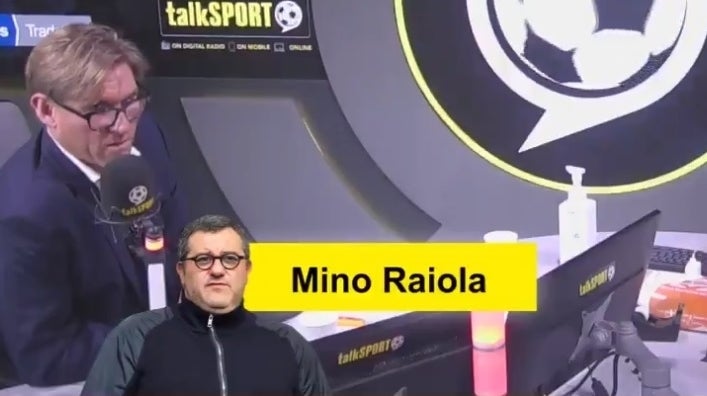 The Zlatan Ibrahimovic versus EA Sports war over image rights is rumbling on, with the superstar footballer's superagent saying "it's all about money".
In a spicy radio interview with TalkSport, Mino Raiola was quizzed by former owner of Crystal Palace Simon Jordan over his threat to take EA Sports to court over the use of Ibrahimovic's likeness in the FIFA games.
💰 𝗦𝗶𝗺𝗼𝗻: "This is about you wanting to get a commission."

😡 𝗠𝗶𝗻𝗼: "I don't give a damn about what your opinion is."

🤷‍♂️ 𝗦𝗶𝗺𝗼𝗻: "You're as troublesome to me as a cloudy day."

⛔️ 𝗠𝗶𝗻𝗼: "This is over."@SJOpinion10 vs Mino Raiola is an absolute must watch 🍿 pic.twitter.com/tirZUZawjv

— talkSPORT (@talkSPORT) November 26, 2020
Jordan asked Raiola why he hadn't slapped EA Sports with an injunction and a cease and desist to block the company from using Ibrahimovic in FIFA 21.
"Everything in its right time," replied Raiola.
Jordan then goes on to suggest Raiola's actions are less about stopping companies from using Ibrahimovic's image in video games, and more about trying to make more money from player licensing.
"This is either about stopping using Zlatan's image, or it's about money," Jordan says. "I suspect it's about money."
"It's all about money," Raiola replies.
"EA Sports is not a charity foundation... This is about money. This is about rights. This is about who can exploit whose rights. And it's a principle. And why we don't do things before or after is a call we will make and we don't need to explain now."
Raiola has claimed only Ibrahimovic holds his image rights - not his club, AC Milan or players union FIFPro - and therefore EA Sports does not have the right to use Ibrahimovic in FIFA.
EA Sports, however, insists it has contractual rights to include the likeness of all players currently in FIFA 21, including Ibrahimovic, after doing a deal with his club AC Milan. EA has said it also has a licence for the use of Gareth Bale, who has also complained on Twitter, after doing a deal with the Premier League. Here's our explainer on the situation for more.
FIFPro issued a fresh statement yesterday, saying it was getting in touch with those who have recently kicked up a fuss (namely, Zlatan and his agent) over their image rights.
"In light of recent media reports, FIFPro wishes to clarify the manner in which it obtains the image rights of players, and its role in defending the employment rights of professional footballers worldwide," FIFPro said.
"FIFPro, a not-for-profit organisation, acquires image rights via player unions in nearly 60 countries. These rights are made available to Electronic Arts and other clients in the video gaming industry.
"FIFPro's relationship with the video gaming companies complements separate arrangements they directly agree with clubs, leagues, governing bodies and individual players. FIFPro member unions decide how best to use the revenue generated, either by distributing funds directly among players or providing services in kind such as legal advice, second-career planning and mental and physical assistance.
"FIFPro is reaching out to the players and their representation that have recently raised concerns so we can address their questions.
"As the COVID-19 pandemic severely impacts the football industry, we are proud of our member unions for having supported tens of thousands of footballers around the world."
EA Sports, which has said the recent campaign on social media is about players, their agents and FIFPro and nothing to do with FIFA 21, also had some choice words for Raiola in a statement issued to Eurogamer overnight:
"Mino Raiola is a respected player representative who we have partnered with for many years, including this year when our relationship ensured his client Erling Haaland would be part of our FIFA 21 marketing campaign.
"We have also enjoyed a great working relationship with Zlatan Ibrahimović, who has appeared in every FIFA since 2002 and regularly received awards as part of our FUT experience. Gareth Bale's eSports Company Ellevens utilises our FIFA game as a key platform for his professional eSports athletes and we're confident Gareth and his team see significant value in our partnership, as evidenced through this recently released content."
The content referred to by EA in the statement is the video below, in which Bale appears promoting his eSports Company Ellevens.
Back to the TalkSport interview, and here's Jordan again:
"What this is about is someone like you popping up saying, we're missing an opportunity here and ultimately I can monetise that, and of course I'll be paid a commission on that. And Beckham's just been paid forty million quid."
Raiola doesn't like the insinuation and hangs up.
The whole thing is getting a little messy, but it sounds like this row has legs. The Guardian reported "a number of high-profile players" have instructed their representatives to look into whether they are entitled to some of the proceeds made from using their likeness on the game.
Do they have a case? EA has for years now licensed content from league licenses, which generally include club and player rights. This is how EA is able to use Premier League players in FIFA.
But in some countries where the league for that country doesn't have collective rights, such as Italy, EA also signs individual club deals, such as the one it signed with AC Milan that supposedly includes the right to use Zlatan's image in the game.
Of course, EA will argue it's not viable to negotiate the rights of every player in the game at an individual level (something Raiola seems to be arguing for). If Zlatan took EA Sports to court and won, or if players all of a sudden pulled out of the current collective approach to the granting of rights, EA Sports could be forced to use generic players in FIFA. Zoltan Abrohimovic, perhaps.
What Jordan suggests is this row is less about video games and more about agents - already under pressure in the face of impending regulations - trying to secure a higher fee percentage from licence holders, such as FIFPro. As they say, it's all about the money.
FIFA 21 continues with Zlatan very much in the game. The ball, it seems, is in his agent's court.
Become a Eurogamer subscriber and get your first month for £1
Get your first month for £1 (normally £3.99) when you buy a Standard Eurogamer subscription. Enjoy ad-free browsing, merch discounts, our monthly letter from the editor, and show your support with a supporter-exclusive comment flair!