Zelda: Breath of the Wild Master Sword - location of the legendary weapon and how to complete The Hero's Sword
The famous weapon is hidden away in one of the game's optional areas.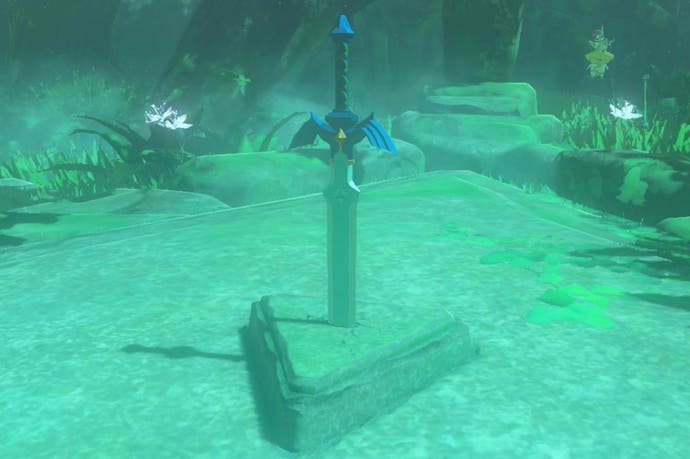 Zelda: Breath of the Wild's Master Sword sees the return of series' most legendary weapon.
Interestingly, it's not essential for completing the adventure, and while there are more powerful weapons out there, it has special traits that make it worth collecting before you tackle the game's final boss.
If you're after help for parts of the game, consult our Zelda: Breath of the Wild walkthrough and guide. If, however, you're looking to get your hands on some awesome Zelda hoodies, among other things, head over to our sister-site Jelly Deals for a roundup of the best.
Master Sword location in Zelda: Breath of the Wild
The Master Sword is more accessible than you think. Once you're out of the Great Plateau, you can immediately make your way there if you so choose - though, as we'll explain below, it won't do you much good.
You can find the Master Sword location within Korok Forest as part of the northern Woodlands region.
To get there, you need to traverse the Lost Woods, a mysterious place that will reset your progress if you take a wrong turn - unless you know the Lost Woods route, of course, which will explain how to find the Woodlands and the exact steps to take when you're getting close.
Once you're in the Korok Forest, make sure you create a fast travel point at the Keo Ruug shrine nearby so you don't have to brave the Lost Woods again.
The Master Sword is a very short walk to the left of the front of the Great Deku Tree, standing upright and ready for someone to grab it.
How to get the Master Sword and complete The Hero's Sword
After you first try to pull it, you'll get a cutscene with the Great Deku Tree, providing a little backstory with the blade and saying you need a high amount of strength in order to pull it. This will also start The Hero's Sword quest.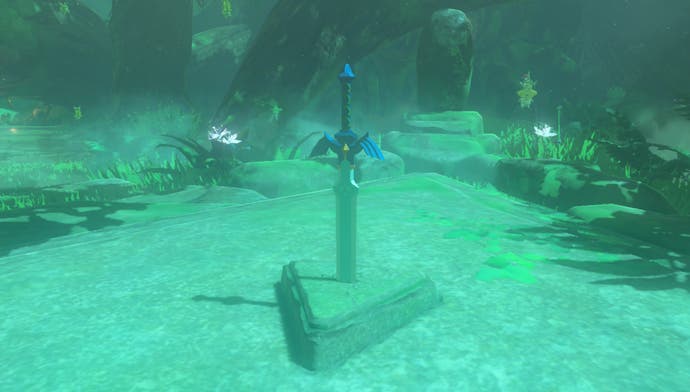 Strength means your health in this instance. If you don't have enough Heart Containers - which drains as you slowly pull it from the ground - then you'll perish before you can receive it.
The amount of Heart Containers you need to collect it is 13 in total. Since you start with three Heart Containers, that means you need 10 over the course of your journey. To put that in perspective, thats:
40 Shrines completed (each Shrine gives you a Shine Orb, and 4 Shrine Orbs is worth 1 Heart Container)
Four Divine Beasts defeated (each one gives 1 Heart Container) and 24 Shrines completed for the 6 remaining Hearts
Remember you can trade your Stamina for Heart Containers (and back again later) from a specific statue - which we discuss in our Shrine Orbs explainer - if you're in temporary need of a Heart upg.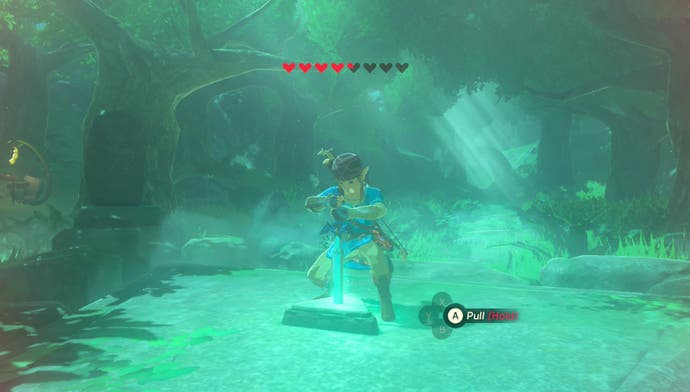 Or a combination of the above; how you get the Master Sword - and when - is entirely up to you. You could simply focus in on Shrines from as soon as you start the Great Plateau until have enough to get the Master Sword, or wait until you're just before visiting Calamity Ganon after you've tackled the Divine Beasts and the many Shrines you will naturally come across.
---
Thanks to a new update, it's now possible to play Zelda Breath of the Wild in VR. Want help with the main game? Our Zelda: Breath of the Wild walkthrough can help complete Divine Beasts Vah Ruta, Vah Rudiana, Vah Medoh and Vah Naboris and more. There's also how to get the Master Sword, Hylian Shield and all Zelda Captured Memories and Great Fairy Fountain locations, while our Shrines locations and Shrine maps hub explains where to find and solve every puzzle room, including dragon locations and Labyrinth solutions. We also have a DLC 1 guide and DLC 2 guide, including all Tingle, Majora's Mask, Phantom, Midna outfit locations.
---
What else you need to know about the Master Sword
When you have 13 Heart Pieces, attempt to pull out the Master Sword once more and, after another cutscene, it'll be yours. It has the following description:
"The legendary sword that seals the darkness. Its blade gleams with a sacred luster that can oppose the Calamity. Only a hero chosen by the sword itself may wield it."
The Master Sword is a 30 strength Sword, but will deal out much more damage to Ganon and anything affected by the Calamity, making it a useful weapon against major enemies and the end game.
It can be used on regular foes, but since this is classed as 'using it without need' as the Great Tree explains, will become unusable for a short period (about five to ten minutes) when you do.
On the plus side, it technically cannot ever break, so it's a handy weapon to always have on standby whenever you aren't facing Calamity-tainted beasts and need something of a good strength to defend yourself with.
Once you have it, it's well worth pairing with the much easier to get Hylian Shield to help complete the classic Zelda garb.