Yooka-Laylee playable for the first time anywhere at EGX
There's a developer session, too.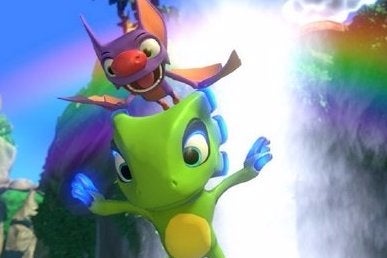 Yooka-Laylee will be publicly playable for the first time anywhere in the world next month at EGX, the event run by Eurogamer's parent company Gamer Network.
We've been big fans of the nostalgia-fuelled 3D platformer since it was first announced last year, through its barn-storming Kickstarter and then into a pretty polished playable state over the last few months.
Most recently, I got a glimpse at the game's second level where you can transform into a snowplough, while Kickstarter backers got a specially-made Toybox mode to play around in, and which you may or may not know has a hidden ending.
As well as being able to play Yooka-Laylee, EGX will also host a developer panel with some of the folk who make it, so you can ask them about working at Rare, building the game and their love of willy jokes.
Super Pass, Early entry and all Saturday tickets are now sold out, but you can still pick up day tickets for Sunday when the Yooka-Laylee panel will take place over on the EGX site.