Xbox Music strikes a chord tomorrow alongside Xbox Live update
Microsoft takes on Spotify and iTunes with 30 million songs, but you can't listen for free on Xbox 360.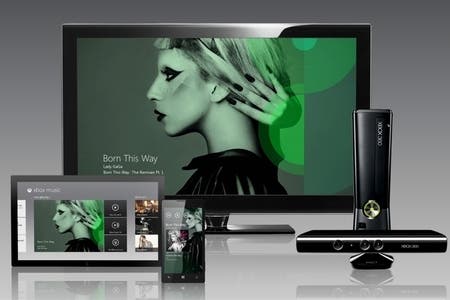 Xbox Music releases tomorrow alongside a dashboard update, Microsoft has announced.
The cloud powered music service launches tomorrow on Xbox 360 as part of a rolling update to Xbox Live. It goes live for Windows 8 when the operating system launches later this month on 26th October, and on iOS and Android devices at a later, unspecified date.
Xbox Music, which replaces the Zune service, launches with 30 million songs. You can listen to songs for free on a Windows 8-based tablet and PC, create playlists, as you'd imagine, create artist-based radio stations and use Smart DJ to create playlists with unlimited skipping. Then, you can buy the music you want to own from the Xbox Music Store, available on Windows Phone 8 and Windows 8.
The free, ad-supported streaming of the entire catalogue is only available on Windows 8. You can buy the Xbox Music Pass for £8.99 a month, which lets you take music to the cloud and listen to on other devices such as Xbox 360 and Windows Phone 8.
Currently, Xbox 360 owners cannot make use of the free, ad-supported streaming service. You have to pay for an Xbox Live Gold subscription and, on top of that, pay for the Xbox Music Pass so the cloud makes your songs appear on your console. Will free streaming be an option on the next Xbox?
Microsoft has positioned Xbox Music as an all-in-one service that provides the best of the likes of Spotify, Pandora and iTunes. And, of course, it works across all Microsoft devices, from Xbox 360 to Windows 8 to Windows Phone 8 and the Surface tablet. In fact Xbox Music comes pre-installed and is the default music player on Windows 8.
It's also yet another attempt to broaden brand Xbox on devices other than the Xbox 360, and crystallise the view that Xbox doesn't necessarily mean you have an Xbox.
Xbox Music doesn't exist on Windows 7, so Zune will remain. But from Microsoft's point of view, it sees Xbox Music as yet another reason to upgrade to its shiny new OS.
Xbox Music isn't the only addition coming to your Xbox 360. The Xbox Live update includes improved search (you can search for content by category or genre), recommendations and pinning of games and videos, and better Voice Search with Kinect. Coming later is Internet Explorer and Xbox SmartGlass, which lets you use your smartphone or tablet as an Xbox companion device.