Xbox Live chart: COD sees off FIFA, Gears, Forza
While Dungeon Defenders takes XBLA crown.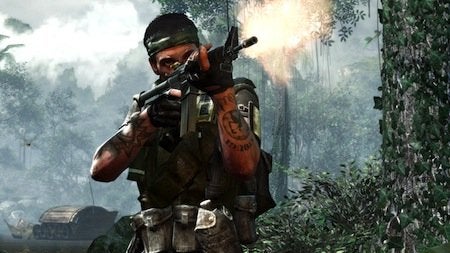 Microsoft has offered up further proof, should any be needed, of Call of Duty's total domination of Xbox Live.
Both Black Ops and Modern Warfare 2 are both camped out at the top of last week's Xbox Live activity chart, seeing off stiff competition from the likes of Gears of War 3, FIFA 12 and Forza 4.
It's a year since Black Ops was released and two since Modern Warfare 2. People are still playing World at War and the original Modern Warfare as well, at 19 and 12 respectively.
Maybe Battlefield 3 can shake things up next week.
Here's the full top 20, as seen on Major Nelson's blog, based on global unique users:
1. Call of Duty: Black Ops
2. Modern Warfare 2
3. Gears of War 3
4. FIFA 12
5. Halo: Reach
6. Forza Motorsport 4
7. Batman: Arkham City
8. Madden NFL 12
9. GTA IV
10. Battlefield: Bad Co. 2
11. NBA 2K12
12. Call of Duty 4: Modern Warfare
13. FIFA Soccer 11
14. NHL12
15. Dead Island
16. Halo 3
17. Need For Speed: The Run demo
18. NCAA Football 12
19. Call of Duty: World at War
20. Red Dead Redemption
Over on the Xbox Live Arcade chart, Reverb's tower defense RPG Dungeon Defenders ruled the roost, followed by movie tie-in Real Steel, Pinball FX2 and PopCap gem Bejeweled 3.
1. Dungeon Defenders
2. Real Stell
3. Pinball FX2
4. Bejeweled 3
5. Guardian Heroes
6. NBA Jam: On Fire Edition
7. Orcs Must Die!
8. Fruit Ninja Kinect
9. Castle Crashers
10. Zombie Apocalypse
11. Trials HD
12. Worms: Ultimate Mayhem
13. Toy Soldiers: Cold War
14. Magic: The Gathering - Duels of the Planeswalkers 2012
15. Castlevania: Harmony of Despair
16. Mortal Kombat Arcade Kollection
17. Full House Poker
18. Burnout Crash!
19. Game Room
20. Shadow Complex