Whew, NASA big delay for Kerbal Space Program 2
Suppose we'll have to wait orbit longer.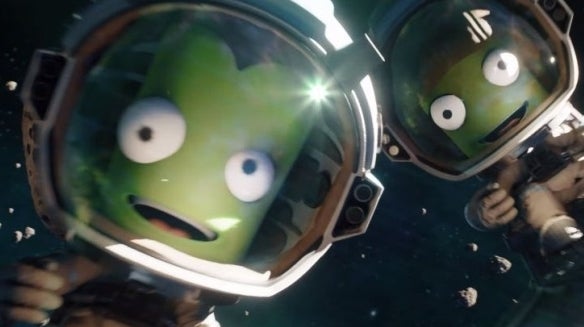 UPDATE: The game's creative director, Nate Simpson, clarified Kerbal Space Program 2 will be released in 2022.
Simpson shared the target in a letter to the community about the delay on the game's forum.
"Gonna rip the band-aid off fast here: Kerbal Space Program 2 will release in 2022 instead of fall 2021. I know this is frustrating, especially considering that this isn't the first time we've adjusted our schedule," he wrote.
"We knew we were taking on an immense technical and creative challenge when we started this project. We've heard time and again from this community that quality is paramount, and we feel the same way. It's not enough to deliver a bunch of new features - those features have to be woven together into a stable, polished whole. We're creating a reliable foundation on which players and modders alike can build for another decade or more. That involves solving problems that have never been solved before, and that takes time.
"We've got a team of talented people working every challenge from every angle, and because I'm lucky enough to get a front row seat, I can see the huge leaps we're making. It's killing us how much of this we have to keep under our hats until the game is released. We can't express how much we're looking forward to soaking up all your reactions and discoveries on that day.
"In the meantime, we'll keep posting cool images here to give you a taste of what's in store. We will also continue to release feature videos and developer diaries that go more in-depth on specific areas of the game, and hopefully those will help 2021 to go by a little faster."
ORIGINAL STORY: What is going on with dodgy sequel Kerbal Space Program 2? It's just been delayed again.
Originally, it was due 2020, which was later adjusted to "fiscal 2021" - sometime between April 2020 and March 2021. Then, because of coronavirus, it became autumn 2021.
Now only six months later, it's become "fiscal 2023" - sometime between April 2022 to March 2023. [See the update above for a clarified release date target.]
Consider the original projection and the latest date and there's a two-year, possibly-three, discrepancy between them. It suggests a significant amount of extra work has had to be done, possibly even a rework. What gives?
Take-Two, owner of Kerbal Space Program 2 publisher Private Division, wouldn't elaborate on the delay. All it said during an earnings call overnight was: "Private Division's new development studio Intercept Games remains hard at work on Kerbal Space Program 2, which is now planned for release during fiscal 2023." That was president Karl Slatoff speaking, transcript by Seeking Alpha.
Remember, Kerbal Space Program 2 isn't developed by the same team that made Kerbal Space Program 1. That was a developer called Squad. But Squad sold the IP to Take-Two in 2017. Then, in 2019, Take-Two/Private Division announced a sequel, to be developed by Planetary Annihilation developer Star Theory. Keeping up so far?
Here's where it goes a bit wonky. At the beginning of this year, Take-Two/Private Division announced it had opened a brand new studio to work on Kerbal Space Program 2, and then in May announced this was called Intercept Games.
What happened to Star Theory? Bloomberg reported it had been binned off in a rather underhand way. Take-Two/Private Division apparently cancelled the project at Star Theory while simultaneously poaching staff - via LinkedIn - to continue working on the game in-house at Intercept Games. The resulting cancelled contract would lead Star Theory to close.
What a carry on.
Meanwhile, however, Kerbal Space Program 1, a sandbox game about building your own rockets, and one we rated Essential in our review, continues to be updated. This summer it teamed up with the European Space Agency to deliver an ESA-themed bumper update to the game.
Kerbal Space Program 2 is in development for PC and unspecified consoles (which I presume means only the new ones given the dates we're talking about now).