Watch: The secret levels that would be DLC these days
Plus more from Outside Xbox.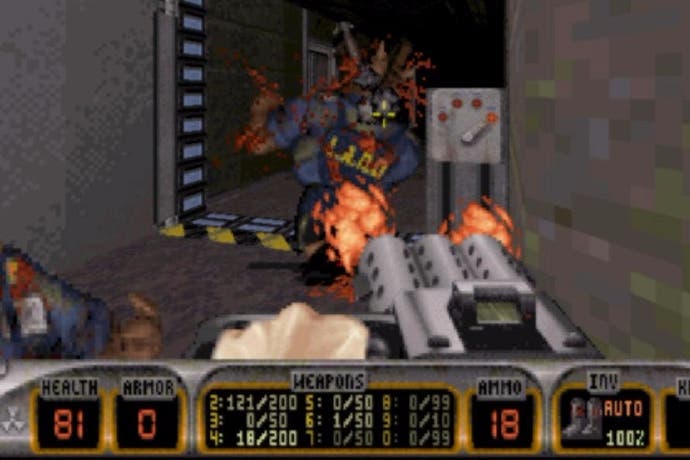 Greetings, Eurogamers, and thanks for joining us for this hand-picked selection of the videos from Outside Xbox, where this week we've been thinking about secret bonus levels.
Remember the secret Cloud City level in Jedi Knight: Mysteries of the Sith, Aztec in GoldenEye, and the gigantic Area 51 hidden away in Duke Nukem 3D? Remind yourself of these and further impressive bonus levels for which you'd probably get charged real money if they were made these days.
Also occupying us this week was Overcooked, a new co-operative cooking game out next week for Xbox One, PS4 and PC.
In Overcooked, you need to cook food and serve it up to guests in a variety of bizarre kitchens that include a frozen river with moving ice floes and a pair of trucks that move together and apart as they race down a mercifully straight highway.
They still produce more appetising food than most of the stuff I've tried to cook in games, as we discover later in the show.
Finally this week, Mike is here to talk to you about cars, which I promise is a good thing.
The previous F1 game was fundamentally good but, as the first in the series to debut on Xbox One and PS4, it was lacking in some features that had been previously available in other F1 games from Codemasters, such as the safety car and a proper career mode.
F1 2016 looks like it'll fix that and then some, adding some hugely in-depth and oft-requested mechanics this time around.
As you'll see in the following Xbox One Gameplay, Formula One 2016 is unashamedly nerdy about that nerdiest of sports, Formula One racing. Its new career mode, manual starts and revamped rival system are just some of the ways it simulates the sport more closely than ever.
For more videos, visit us at outsidexbox.com or subscribe to our YouTube channel. See you there or back here in seven days.