Watch someone defeat Bloodborne's terrifying DLC boss unarmed (on NG+7)
Update: Slays the final DLC boss weaponless, naked and without healing.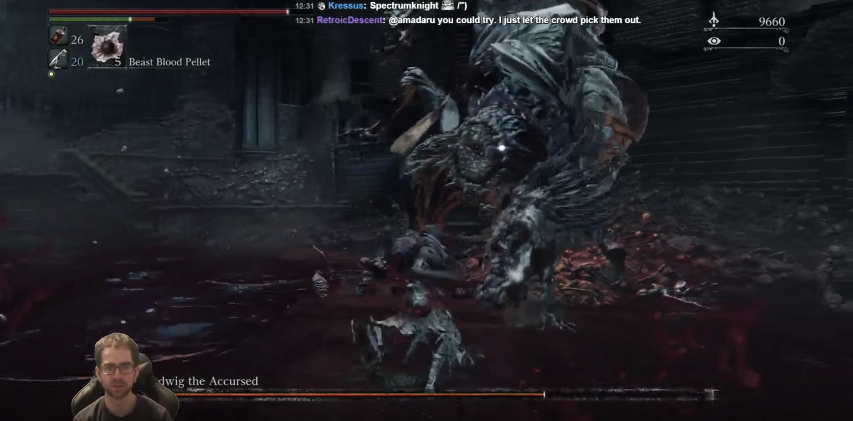 UPDATE 10/12/2015 5.40pm: Lobos Jr. has continued his legendary fisting run by pummeling Bloodborne: The Old Hunter's final boss on New Game+7 without a weapon in hand.
Only this time Lobos Jr. went one step further by going in naked and refusing to use healing items.
You can watch this epic, HUD-less bout with the terrifying Orphan of Kos in the video below. It's worth noting that The Old Hunters has an optional boss that Lobos Jr. is still toiling away at. He'll resume his unarmed Bloodborne run tomorrow on his Twitch channel.
ORIGINAL STORY 09/12/2015 7.12pm: Bloodborne's The Old Hunters DLC bosses are hard. At least they were for me as I was playing on the ultra difficult New Game +++ mode and refused to summon help (NPC or otherwise). But whatever challenges I faced were nothing compared to Souls aficionado and super masochist Lobos Jr., who decided to take on the expansion's first boss, Ludwig the Accursed, in NG+7 (the hardest difficulty) using only his fists.
That's right, Lobos Jr. entered the fray unarmed against a boss more challenging than anything in the main campaign. As such, it took him roughly 12 hours to fell this grand beast (which honestly sounds much shorter than I'd have estimated). Heck, even his successful attempt takes a whopping 37 minutes to perform.
Lobos Jr. is no stranger to insane Souls runs. He previously brawled his way through the first Dark Souls using only "dragon punches", braved Dark Souls 2 in a No Death or Bonfire run, and even conquered Dark Souls reverted to be portrayed upside down.
You can keep up with more of Lobos Jr.'s Bloodborne escapades on Twitch. He's currently squaring off against the DLC's final boss in a similarly unarmed fashion.