Watch Hitman recreated in extravagant real-life game
From the studio behind Chatroulette's Real Life First Person Shooter.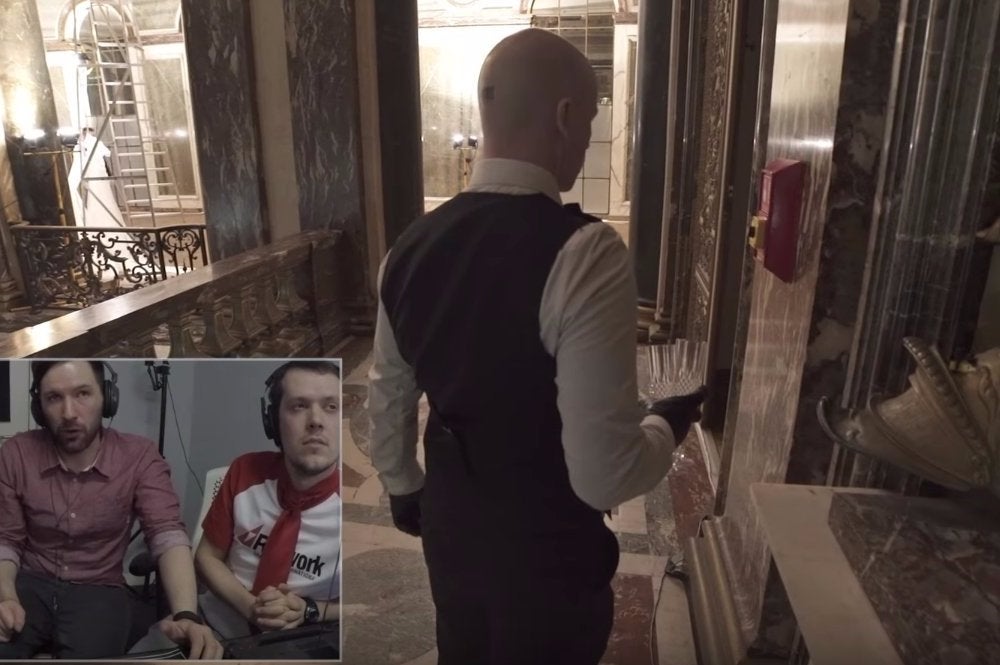 IO Interactive's popular Hitman franchise was adapted into a big budget real-life interactive experience.
Production company Realm Pictures, who you may remember from last year's incredible Chatroulette-based Real Life First Person Shooter, was hired by IO to comprise a scenario that looks like something you'd see in Hitman, only arranged with human actors and real world setpieces.
The game was played by a collective of invite-only contestants - including our friends at Outside Xbox - who were able to control the titular Hitman by whispering directions in the actor's earpiece as he stalks Oldway Mansion in Devon.
To further the series likeness, Realm Pictures even brought in Hitman voice actor David Bateson to reprise his role as Agent 47 on the line with the remote players. Aside from the star, there are 22 other actors on set.
Unlike Realm Pictures' previous real-life shooter experiences, Hitman needed to be filmed in third-person with a cameraman gracefully emulating the behind-the-shoulder perspective of IO's beloved video game series.
Each team was given one hour to assassinate their target and escape the premises. Amazingly, Realm Pictures seemed to have prepared for any possibility, such as cutting off a guard's finger to bypass a security scanner or pushing a statue off a balcony onto an unsuspecting target.
Director David M Reynolds explained in the following behind the scenes video that the studio created five different ways to infiltrate the building and 10 different ways to approach their target with all manner of costumes, approaches and techniques applicable to every situation.
"Trust me when I say that I cannot wait to show you what we have in store for you next," Reynolds teased at the end. Might as well ask, what franchises would you like to see given Realm Pictures' real-life treatment?