Watch: Aoife and Chris play Mario + Rabbids Kingdom Battle
Wahoo, Commander.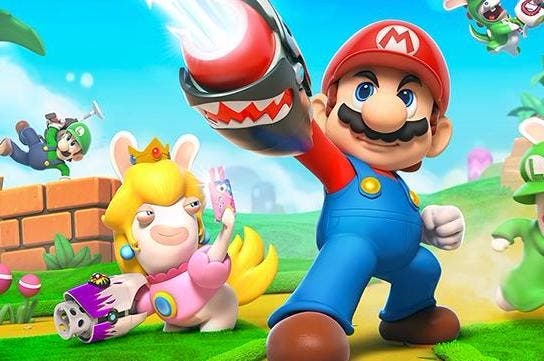 When an image of Mario + Rabbids Kingdom Battle leaked last month, it's safe to say my reaction was not good. Why is Mario teaming up with gaming's equivalent of the Minions from Despicable Me? Why is this being made? Who needs this? Who even wants this?
After the game's proper unveiling at E3 this year, I can confidently answer the last two questions - me. I want this. Scratch that - I need this. Ubisoft's conference opener, which saw Shigeru Miyamoto brandish a replica blaster on stage with Yves Guillemot, was brilliant not just for its positivity, but for its brazenness. Yes we have made a Mario / Rabbids hybrid, it said, and what's more it's really, really good.
Chris and Aoife got hands on with Mario + Rabbids Kingdom Battle yesterday in order to bring you half an hour of gameplay. Spanning a few different encounters, it offers a good look at the game world, turn-based combat, weapon unlocks and combo moves.
Personally, I'm most excited about the freedom the setting gives the developers to try new things - that springboard movement mechanic alone is genius. Clearly this is a game that's very naturally compared to XCOM, but it also boasts some genuinely innovative mechanics that help revitalise the turn-based strategy format - and that is a sentence I never thought I'd get to type about Ubisoft's idiot bunny rabbits.