Warframe's massive open-world Fortuna expansion arrives on PC this week
UPDATE: Coming to Xbox One and PS4 next week.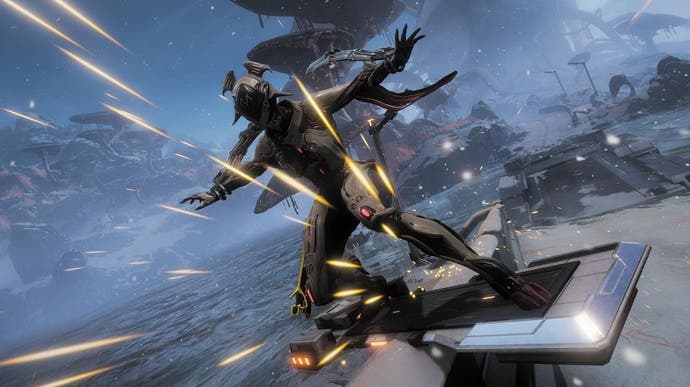 UPDATE 7/12/18: Digital Extremes has announced that Warframe's excellent open-world Fortuna update, which unfolds across and beneath the frozen wastes of Venus, will come to Xbox One and PlayStation 4 on December 10th.
There's no news yet on when we can expect the expansion to make its way to Digital Extreme's impressive, recently released Switch version, but hopefully that'll change soon.
---
UPDATE: 8/11/18: Four months after it was first revealed to the world by way of a musical number (which, incidentally, is the way that all things in life should be revealed), Warframe's massive Venus-based Fortuna expansion is out on PC.
Alongside the snowy open-world wastes of Orb Vallis and the dept-interment colony of Fortuna below, Warframe's latest free expansion introduces new missions and bounties, wildlife conservation, hoverboarding, the new Garuda Warframe, and more.
According to developer Digital Extremes, Warframe's ambitious Fortuna update will be making its way to Xbox One and PlayStation 4 "soon".
---
ORIGINAL STORY 6/11/18: Developer Digital Extremes has revealed that Fortuna, Warframe's highly anticipated open-world Venus expansion, will be launching on PC later this week.
Much like last year's impressive Plains of Eidolon update, Fortuna introduces an expansive new open-world area to Warframe, this one spanning the snowy wastes of Venus' surface and the hub-like dept-interment colony of Fortuna far below.
Fortuna serves as home to the new Solaris United faction, but "underneath the facade of harmony and unified labor," explains Digital Extremes, "discontent runs deep". It's here that players can collect missions and bounties, uncovering some of the new area-related lore, including the likes of The Business, Eudico, Rude Zuud, the Ventkids.
Up above ground, meanwhile, is the Orb Vallis, "an exotic terrain blanketed with Orokin structures, towering mushroom forests, oceanic flora, and endangered native creatures." The surface promises plenty of opportunities for resource gathering (as well as giant robot spiders), and Digital Extremes notes that fishing here comes with a "twist". It seems that fish on Orb Vallis are entirely robotic, requiring different spears and tips for a successful catch.
And on the subject of wildlife, Fortuna also introduces a stealthy new animal conservation mechanic, where players can track, lure, and capture endangered species. Toss in the new hoverboard-style K-Drive, designed to ease travel across the Orb Vallis, and the new "bloody, powerful" Garuda Warframe, and there's a lot to look forward to.
Fortuna will, of course, be completely free when it launches on PC later this week. PlayStation 4 and Xbox One owners have a bit longer to wait, however, with Digital Extremes merely saying that Fortuna will come to consoles "soon".