Warframe's Deadlock Protocol update brings major Corpus Faction remaster to PC today
New Corpus Ship tileset! Protea Warframe! More!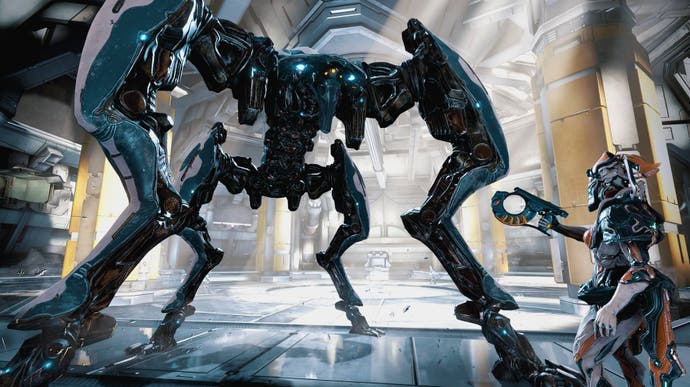 Developer Digital Extremes' acclaimed free-to-play sci-fi shooter Warframe continues its ceaseless expansion on PC today, its new Deadlock Protocol update introducing new missions, a new Warframe, and a thorough remaster for its ageing Corpus Faction content.
Warframe's wealth-obsessed Corpus Faction and related Corpus Ship tileset are some of the earliest content created for the game, dating all the way back to its original release in 2013. The tileset itself - which forms Warframe's procedurally generated interiors - receives a thorough upgrade, boosting graphical fidelity and expanding its spaces to better suit the game's modern style of play, but there are improvements across all aspects of the Corpus Faction.
You can expect new challenges and enemies - including an overhauled Jackal boss fight - plus new story elements said to shed more light on the origins of the Corpus.
"Nef Anyo claims to have found an heir to the long-deceased Corpus Founder, Parvos Granum, and has the means to prove it," explains Digital Extremes in a bout of scene-setting for the new update, "The Solaris have begun disappearing in droves and Eudico thinks it has something to do with Nef's power play. Whoever they are, the heir to the Founder would be able to solve the stalemate and stage a total takeover of the Corpus Board. If Nef Anyo has anything to do with it, that spells bad news for the Solaris."
As part of Warframe's updated Corpus Ship missions, players can encounter new Treasurers offering special Granum Crowns that can be used to initiate mission challenges, negotiate the release of Solaris prisoners, or locate Corpus Temple Reliefs. The latter reveal more about the Corpus' mysterious founder, with each new story unlocking Relief Decorations for the Orbiter.
The Deadlock Protocol's final big feature is the new time-manipulating Protea Warframe, able to deploy their Temporal Anchor in order to rewind at any point, damaging foes and restoring ammo, energy, shields, and health in the process. More details on Protea, and some of the update's smaller-scale additions, can be found in Digital Extremes' latest post.
Warframe's The Deadlock Protocol releases today on PC and will be making its way to Xbox One, PlayStation 4, and Switch soon.