Video: Head into battle with Toy Soldiers: War Chest gameplay
Ian shows off his rainbow-farting flying Pegasus units.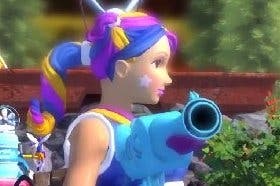 The reveal of Toy Soldiers: War Chest came with a few surprises - some welcome, some not so much.
On the upside, it's great to see the series return and franchise founder Signal Studios remain at the helm.
Headed to PC, PlayStation 4 and Xbox One next year, War Chest will also be the first title in the series not to be a Microsoft console exclusive.
But the inclusion of the game's wacky new factions proved divisive for some, while others noted that the game's visuals haven't seen much of an improvement despite the leap to a new round of consoles.
Eurogamer's YouTube editor Ian Higton rounds all of this up in the video below and provides his own impressions of the title from going hands-on at Gamescom last week.