Velocity Ultra will land on PS3 later this year
Soon console gamers shall know our velocity.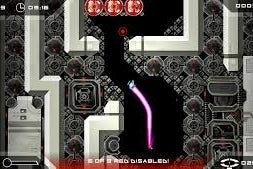 Velocity Ultra - FuturLab's Vita remake of its PlayStation Mini shooter/puzzle hybrid Velocity - will be coming to PS3 later this year in an enhanced HD port.
This HD version is being published by Curve Studios, who handled the PSN ports of Lone Survivor and Thomas Was Alone. Velocity Ultra's PS3 content will remain the same as its handheld counterpart, and the two versions will share trophies and leaderboards with one another.
"I'm genuinely proud of what we achieved with Velocity Ultra," said FuturLab's managing director James Marsden (not to be confused with the X-Men and 30 Rock actor) on the PlayStation Blog. "We poured our creative heart and soul into this game, and it's fantastic to be working with Curve to bring the game to more players."
For more information on Velocity Ultra, Eurogamer's YouTube editor Ian Higton caught up with Marsden to highlight what made the game so special. Additionally, the pair just reunited to take a look at Velocity's upcoming Vita sequel Velocity 2X.