Uncharted: The Lost Legacy treads charted territory in dev walkthrough
Watch 10 minutes of gameplay.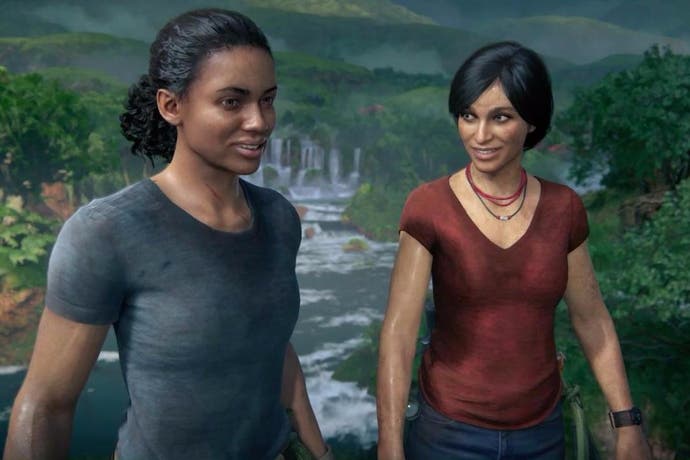 Naughty Dog has unveiled nearly 10 minutes of Uncharted: The Lost Legacy gameplay.
Due on 22nd August for PS4, this successor to Uncharted 4 blurs the line between DLC and a full game. Originally planned as a smaller project, the standalone spin-off grew in scope until it became its own full game, albeit not quite full enough to warrant the usual AAA retail price tag. Instead, this more modest adventure will go for £29.99
This time out we follow Uncharted supporting character Chloe Frazer, a mercenary and ex-lover of Nathan Drake who suffers from a similar addiction to archeology. She'll be joined by Uncharted 4's supporting antagonist and private militia leader Nadine Ross, who will operate as Chloe's AI companion.
Based on the following footage from an E3 presentation, Nadine is quite the capable sidekick. In an amusing riff on Uncharted 2's early stealth tutorial, when Chloe suggests they each take out an unsuspecting guard ("you take left, I'll take right"), Nadine simply charges in and effortlessly dispatches both goons in one fell swoop. She also does a lot of Nathan Drake-style aerial maneuvers because she's a badass like that.
Game director Kurt Margenau boasted that The Lost Legacy will feature "more destructive environments than ever before" and some of the levels will rival even Uncharted 4's maps in terms of scope.
From this presentation The Lost Legacy seems to hit all the usual Uncharted notes. It's got epic shootouts, crumbling platforms, quiet puzzle section, cutscenes with charismatic villains monologuing away as big bads are wont to do, and plenty of whimsical banter between our leads.
Speaking of which, those quips are quick and clever as Chloe and Nadine have a solid repartee. Creative director Shaun Escayg described Chloe as "enigmatic, cunning, [and] a hustler," while Nadine is a "pragmatic, by the book military leader."
Margenau noted that these characters will be in unusual roles as it will be Chloe's first time leading an expedition and Nadine's first time working under someone else as a hired hand. Expect plenty of hijinks.
For more on Uncharted: The Lost Legacy, we'll have an interview going up in the next few days with its creative lead, so look forward to that.