Batman: Arkham City GOTY Edition delayed until 2nd November in UK
That's nearly six months after US launch.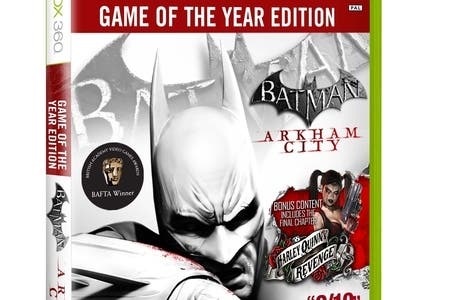 Batman: Arkham City's Game of the Year Edition will now launch for PlayStation 3 and Xbox 360 on 2nd November, Warner Bros. told Eurogamer today.
A UK date was previously set for 7th September. No reason was given for the delay.
The Game of the Year Edition, which comes packed with DLC extras, launched in the US on 29th May. It also included the well-received animated Batman movie Year One, which isn't included in the EU version.
So that's a wait of nearly six months for UK fans.
Arkham City developer Rocksteady responded on its forum, but only after the Game of the Year Edition had missed its original street date.
"Apologies for the confusion and the delay, we understand it is disappointing," Rocksteady's European community manager Sarah Wellock wrote.
"Each of the territories determined the best time to release Batman: Arkham City Game of the Year Edition and for the UK, November is best."
Eurogamer received the same statement from Warner Bros. when we asked for comment.
"[Rocksteady] weren't part of the internal discussions held by the UK sales/marketing team but have full faith in their decision," Wellock continued. "A lot of the time we have to consider our relationships with retailers and what works well for them, it's not just about release schedules."
Curiously, the game's digital PC version managed to launch on time via Steam.
Warner Bros. told Eurogamer that the November date was known about, but we found no press release documenting the delay. Perhaps it was left in the Batmobile.
A November launch pushes the Game of the Year Edition into the jam-packed Christmas period, but also steers it well clear of summer blockbuster Lego Batman 2.