Ubisoft sparks debate by unveiling AI tool to aid scriptwriting
Designed for use with background dialogue.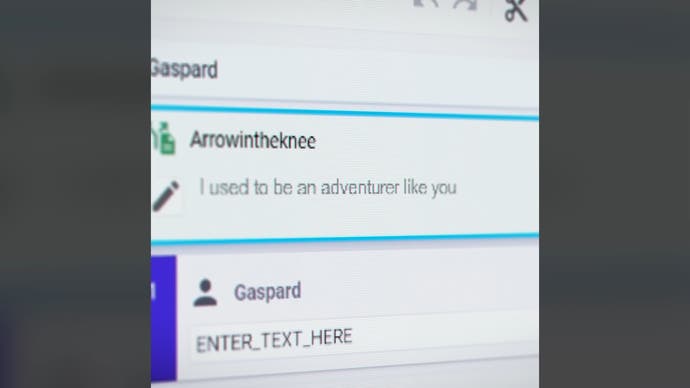 Ubisoft has sparked debate by showing off its new Ghostwriter tool, an "AI" designed to aid its writers create dialogue for in-game NPCs.
Ghostwriter was demoed on stage at GDC this week by Ubisoft researcher Ben Swanson, who stated the tool was designed for use with background dialogue, barks (generic lines from NPCs triggered by the player), and descriptions for the game's user interface.
According to Game Developer, which attended the GDC session, Swanson described the tool as like a "30,000-sided die" which could be rolled to build sentences based on an initial input combined with a modifier, with machine learning built in to ensure responses varied.
A more basic video of how Ghostwriter works - above - shows a user entering in a basic dialogue line - "I used to be an adventurer like you" - and then modifying it with a "motivation", which then creates numerous options the user can then pick from and manually refine.
Swanson reportedly stated numerous times that the tool was meant for "crowd life" filler dialogue, and was not built to construct full stories, lore or provide the kind of hand-written dialogue seen in a game's main questline or cinematics.
The tool also still requires human feedback, to craft and edit the responses it provides.
"Ghostwriter was created hand-in-hand with narrative teams to help them complete repetitive tasks more quickly and effectively, giving them more time and creative freedom to work on the game's narrative, characters and cutscenes, and ensuring characters encounter NPCs that are interesting, consistent and just chatty enough."
Still, response to Ghostwriter's unveiling has been mixed.
"As a writer, having to edit AI-generated scripts/dialogue sounds far more time consuming than just writing my own temp lines 🤷," Sony Santa Monica writer Alanah Pearce wrote. "I would far prefer AAA studios use whatever budget it costs to make tools like this to instead hire more writers."
"I dislike the idea that this would 'free up' writers from 'boring' work for several reasons," Gearbox writer Sam Winkler added. "First - barks, ambient dialogue, and descriptive text is a lot of writers' first billable (and résumé-able) work when they are starting out.
"I feel so sad and powerless," Radical Forge artist Edd Coates said. "Don't be fooled by their claims of 'support', this is exactly how it starts. They're clearly testing the waters with the small stuff before rolling out more aggressive forms of AI. This work could have created a job for a Junior."
Addressing some of this in his talk, Swanson said the tool had been developed internally at Ubisoft after approaching the company's writing teams to discuss their pain points, and that the early response had been positive.