Ubisoft patched out the weird Assassin's Creed 2 NPC face that went viral
Pentimento journey.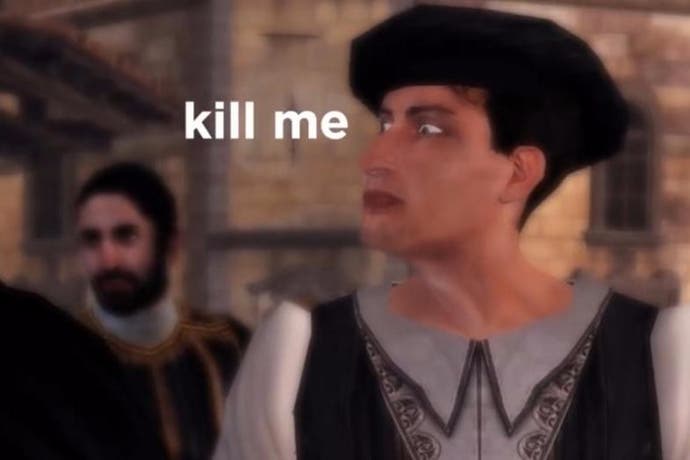 Remember the weird-looking NPC in Assassin's Creed The Ezio Collection? You know, the one with the clown face? Ubisoft patched him - his face - out of the game.
In November, Ubisoft responded to a viral video that showed off the Assassin's Creed Ezio Collection in a poor light. The video showcased glitchy climbing mechanics and a horrendous background NPC face that shows up in Sequence 1, Memory 1, aka Boys Will Be Boys.
At the time, Ubisoft pointed out the NPC in question was in the original Assassin's Creed 2 as well. The original game is darker so he was harder to spot, but he is one of a number of NPC models who can appear in that spot during that cutscene. So, it was entirely possible and indeed likely you would play this scene and never see him.
"The NPC in question only appears in Sequence 1, Memory 1 in Assassin's Creed 2 and is randomly generated, appearing infrequently," a Ubisoft rep told Eurogamer at the time.
"The graphics issue does not affect the core gameplay of Assassin's Creed The Ezio Collection."
Now, Ubisoft has patched the poor NPC out of the game. Digital Foundry chief Richard Leadbetter booted up the game to find its latest patch detailed the change. Under version 1.02 is the following patch note: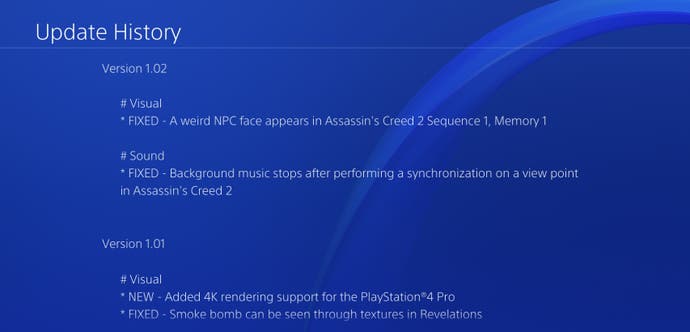 So there you have it. Assassin's Creed 2's most-famous NPC is no more.
Sniff. We'll never forget you.