Here's everything new in that Prince of Persia: The Sands of Time remake
Grainular detail.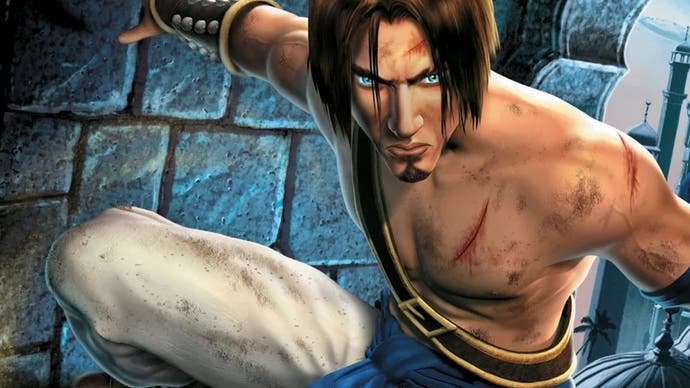 After various leaks, Ubisoft has now officially announced Prince of Persia will return to PC and consoles for the first time in a decade, in what it is calling its first "fully-fledged" remake.
This new version of Prince of Persia: The Sands of Time will arrive for PC, PlayStation 4 and Xbox One on 21st January, and is playable on both PlayStation 5 and Xbox Series X via backwards compatibility.
In a virtual presentation seen by Eurogamer last week, game director Pierre Sylvain-Gires and senior producer Annu Koul detailed some of the work done on the game to update it.
This version of The Sands of Time has been a two-year project for Indian studios Ubisoft Mumbai and Ubisoft Pune, and the first game either has helped to lead development on. Previously, both have provided co-development work for other Ubisoft games like Just Dance and Steep.
The game now runs on a version of Anvil, Ubisoft's internal engine it uses for Assassin's Creed games, with new assets, a new camera, and new controls for its combat system.
New mo-cap and voice recording has also taken place, with original Prince actor Yuri Lowenthal back in the role and Guidestones actress Supinder Wraich cast as Farah.
I was curious to what extent Prince of Persia creator Jordan Mechner was involved, considering previous difficulties continuing the series without his attachment. Following up on this, Sylvain and Koul provided the following:
"[While] the Indian studios in Pune and Mumbai have the ownership of this remake, Jordan was consulted during the pre-production. It was important to have Jordan's input and understand what Jordan would have like to tweak from the original game. We discussed a lot about the cinematics and the core pillars. Jordan has played the game a few weeks back and was very pleased with the result, he enjoyed the new cinematics and was extremely happy to hear the voice of Yuri Lowenthal, the original voice of the Prince."
Today's Ubisoft Forward event arrives after a summer dominated by headlines surrounding the company's wave of sexual assault and misconduct allegations, and its response to them. When asked about these, a Ubisoft spokesperson provided the following boilerplate response:
"Concerning recent allegations raised against certain Ubisoft team members: We want to start by apologising to everyone affected by this - we are truly sorry. We are dedicated to creating an inclusive and safe environment for our teams, players, and communities. It is clear we have fallen short of this in the past. We must do better.
"We have started by launching investigations into the allegations with the support of specialised external consultants. Based on the outcomes, we are fully committed to taking any and all appropriate disciplinary action. As these investigations are ongoing, we can't comment further. We are also auditing our existing policies, processes, and systems to understand where these have broken down, and to ensure we can better prevent, detect, and punish inappropriate behaviour.
"We will be sharing additional measures that we are putting in place with our teams in the coming days. Our goal is to foster an environment that our employees, partners, and communities can be proud of - one that reflects our values and that is safe for everyone."
Ubisoft also addressed the issue earlier today with a video statement from its CEO, Yves Guillemot.