Ubisoft announces Assassin's Creed: Birth of a New World compilation
Contains Assassin's Creeds 3, 4 and Liberation HD.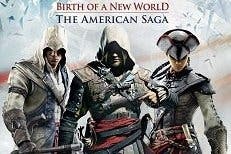 Ubisoft has decided to bundle its most recent three Assassin's Creed games into one compilation: Assassin's Creed: Birth of a New World - The American Saga, due 3rd October in Europe on PS3, Xbox 360 and PC.
This anthology includes Assassin's Creed 3, Assassin's Creed: Liberation HD, and Assassin's Creed 4: Black Flag.
No price has been announced. There's also no word on whether it also includes the DLC for these games, but we've contacted Ubisoft and are looking into it.
This Birth of a New World collection is coming out just in time for players to familiarise themselves with the North American side of the globe-trotting series before Assassin's Creed Rogue - which takes place between AC3 & 4 - launches on 13th November alongside its next-gen brethren, Assassin's Creed Unity.