Train Simulator dev signs Flight Simulator deal
All aboard the Boeing 747 to Bognor.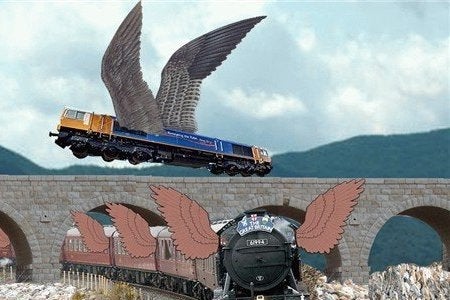 Who to pick to write Flight Simulator's next chapter? Well, "trains" sounds like "planes" so why not Train Simulator developer Dovetail? Oh snap! Microsoft was thinking the same thing.
Dovetail and Microsoft have inked a global licensing deal granting Dovetail the rights to develop and publish "all-new flight products" based on the Flight Simulator engine.
"The company is currently investigating new concepts in this area and is expecting to bring a release to market in 2015," said Dovetail (via PCGamesN).
The deal also grants distribution rights to Flight Simulator X, which means that - for the first time - Microsoft's plane game is coming to Steam. Flight Simulator X: Steam Edition (do not misread as Flight Simulator XXX: Steamy Edition), which includes the Deluxe Edition and Acceleration expansion, will be available in late 2014.
Said Dovetail: "We are thrilled to be exploring new flight simulation opportunities using Microsoft's technology."
Said Microsoft: "When it comes to licensing our simulation engine, Dovetail Games is the obvious choice for us to work with. We respect their approach in terms of delivering premium quality simulation games and look forward to seeing their vision of the next chapter in flight simulations unfold."