Tom Clancy's Splinter Cell: Conviction
Appeal pending.
Much has changed since Sam Fisher retreated into the shadows under cover of nervous write-ups at Ubidays 2007. He's had a haircut, for a start, and he's bought some clothes that fit, including Jason Bourne's sweater. He's also, to judge by the opening sequence of the first playable press demo - a mash-up of the opening two levels of the game proper - relocated to the flashback bathroom where Craig, Daniel Craig popped his double-oh cherry in Casino Royale. But the most important thing for fans will be that he's found his old feet. Conviction is unmistakeably Splinter Cell. The goggles have gone, but Sam is still there, sneaking around and doing unbelievable things under cover of darkness.
Freed from the niceties of Third Echelon - a government agency so polite that you fail missions for being seen or heard or not picking up after yourself - Fisher is happy to make a bit of noise as he sets out to discover who murdered his daughter, and we join with him as he does just that in said gloriously detailed bathroom. Rising from cracked floor tiles, the camera collects Sam's latest contact as he's hurled bodily into a urinal amidst grime-slick walls, foggy mirrors and unkempt porcelain before you take control, dragging Sam's unfortunate balding confidant around and slamming his head against the door slats of a cubicle, or just slapping him about in search of information.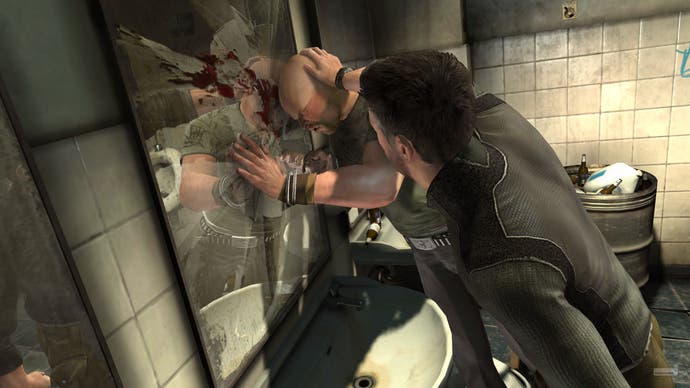 As he spills his guts, you're transported to a flyby of what he's describing - the mansion home of Andriy Semyon Kobin, the man he says killed Sam's daughter, complete with guard positions and access routes. Back in the lavs, you complete the interview by crashing your poor contact's head into a mirror, which cracks, and as he sinks out of view the Splinter Cell: Conviction logo appears in the reflection.
Then it's off to Malta, where Sam quits a 4x4 and cracks the glass out of the left wing-mirror and sticks it in his pocket, before you assume control again. You're on the riverfront at night, stalking through market stalls, past lovers staring out over the railing across the water, and wandering along towards Kobin's base, which looks a bit like the Houses of Parliament. "Infiltrate the Mansion" is projected on the side in huge, Gail Porter-sized letters. Like the idents scattered across the bathroom tiles and mirrors, Ubisoft's projecting information and even video onto objects in-game to avoid taking you out of it. And probably also because it looks wicked.
As you walk, you move in and out of shadow, and rather than have a light meter to reflect this, Ubisoft highlights it by switching to a black-and-white image filter to indicate cover. There are two guards at each of the two obvious mansion entrances - the main one is larger, but at the smaller side gate the second guard heads inside after informing his mate that Sam Fisher's in town. There are presumably multiple ways to overcome them, but I managed a couple - by hopping over the riverfront wall and shimmying at Prince of Persia speed in the direction of the side gate, you draw right alongside to the unwitting guard, and pressing X when prompted hauls him over your shoulder, where he falls conveniently into a wheelie bin that snaps shut. Alternatively, you can cross the street and set off a car alarm to distract the sentries.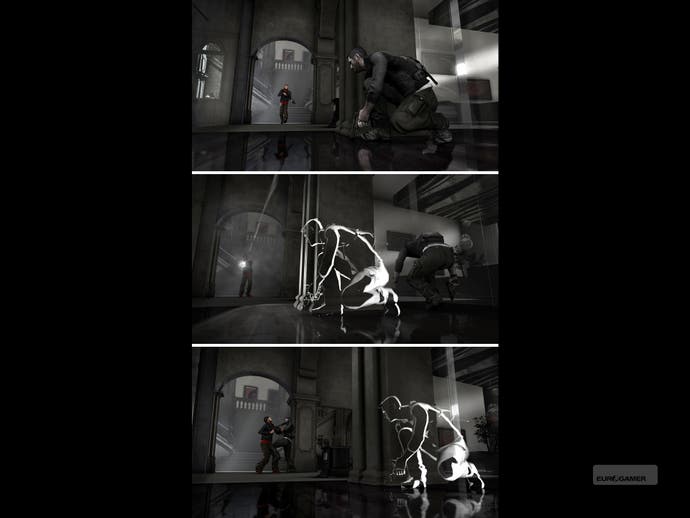 Coming in through the side is neater, however, because it gives you the opportunity to test the new "mark and execute" feature, which you just charged up by performing a melee kill. This provides a certain number of marks to use on your enemies - you creep around tagging them with the right bumper, and as long as they are within your line of sight when you pop out and press Y, you'll down them all with shots to the head quicker than you can say Bourne Ultimatum. In this case, using left-stick click you could simply open the gate as a projected prompt suggests, but when angling the camera down you're given the option to use the wing mirror Sam broke off earlier to observe enemy positions beyond. In this view, you tag the men with RB, then spring the door and down them both in an instant.
Then it's up the trellis at POP speed again to the first floor window, where you gain entrance neatly through the window. Heading across the dark room within, you have the opportunity to stealth-kill a pair of guards, and sneaking up behind them and pressing X evokes a typically brutal Sam takedown, refilling the execute marks. If you like, you can also pick up their weapons. Guns and guns alone can be used for mark-and-execute, but different models allow for more marks.