The Last of Us series two likely "end of 2024, early 2025", Bella Ramsey reckons
To the hammer born.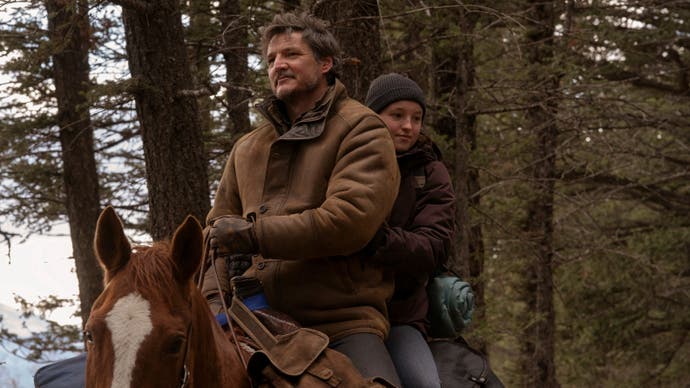 Bella Ramsey, who plays Ellie in HBO's The Last of Us, thinks season two won't be here until "end of 2024, early 2025".
In a conversation with Jonathon Ross on the host's ITV chat show last Friday, Ramsey stated the next series' arrival will "be a while". She did, however, reiterate Pedro Pascal's previous comments that shooting could start as soon as "end of this year, beginning of next".
In addition to chatting more about the series' future, Ramsey also spoke of her relationship with Pascal. "I love him," she told Ross. When discussing their friendship, Ramsey joked "imagine if it was all fake, that would be rough!" Ross then quipped: "That would be acting."
So, we may have a while to wait before series two. Naughty Dog's Neil Druckmann is already teasing fans about things to come.
In a recent tweet, the series co-creator stated: "Season 2 is already on its way! Endure and survive!"
Accompanying these choice words, Druckmann also shared some The Last of Us artwork showing a muscular forearm gripping a hammer. I wonder who that could be...
The Last of Us' first series concluded a little over a week ago, breaking another viewership record for HBO in the process.
Since then, Druckmann and fellow co-creator Craig Mazin have stated series two will have "a lot more infected" when the time comes.
The pair have also reaffirmed previous comments that Part 2 will be told over more than one season.
"I think we know what we're doing on this one," Mazin stated when discussing the upcoming shoot. "I'm not saying that in a snarky way, I'm saying that in a hopeful way. There are going to be things that are going to be different, and there are things that are going to be identical.
"There are things that are going to be added and enriched. There are some things that are going to be flipped. Our goal remains exactly what it was for the first season, which is to deliver a show that makes fans happy."
He added the team has "an incredible returning cast", while admitting "it's a daunting task" to be undertaking.
"But Jesus, so was the first season. You can't make everyone happy. But we've made a lot of people happy and that's our intention to do it again," he stated.
For more on the first series, I recently convinced Bertie, Ed and Jessica to take part in a The Last of Us podcast so I could hear their thoughts on everything from clickers to cliffhangers. You can have a listen to it here.
Finally, just because this made my heart happy, here is a little tweet showing Pascal and Ramsey dancing behind-the-scenes.