The Game Awards 2020 live report
Join us from 11.30pm for all the fun and festivities.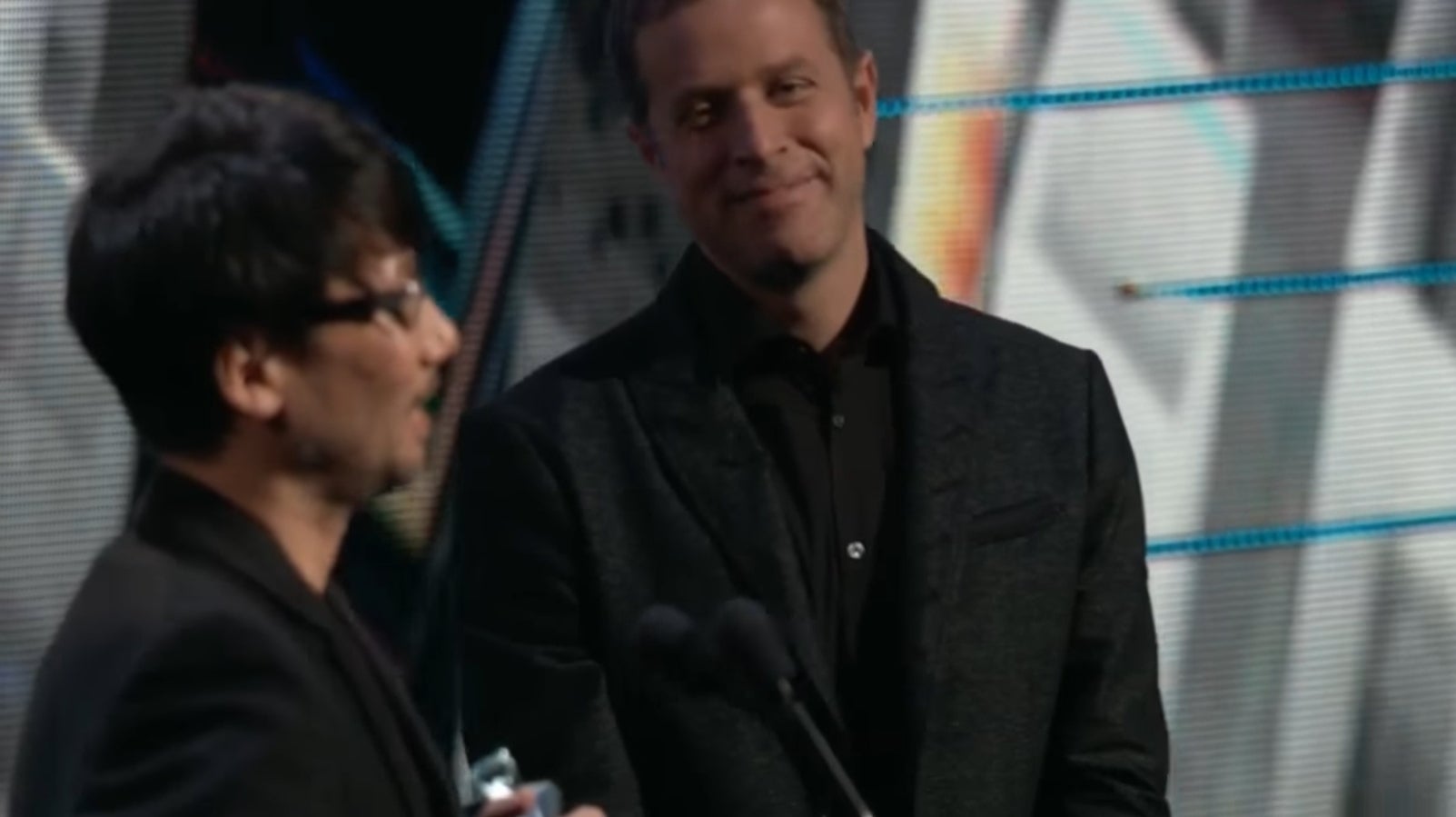 It's time once again for video game's answer to The Oscars! Except no-one cares too much about the awards and is mostly here for the reveals. So it's more like a three hour Superbowl Commercial break. ANYWAY, whatever it is it's starting at 11.30pm, and we'll be joining you for all the fun and games.
Our live coverage of this event has finished.
Coverage
Hello, and how do you do!
I'm obviously not going to be here the whole next two and a half hours before the show. Just wanted to pop in and say hi.
You've got plenty of time to gather snacks, get that sofa nice and comfy and prep a pot of coffee.
Or to put another couple of hours into Cyberpunk, which is what I'm about to do.
We'll be starting in earnest around when the pre-show starts at 11.30pm. See you all a little later!
Just need to find a nice holding image for the next two hours....
Have I missed the pre-show? I mean, it's normally my favourite part and everything, so I'd be gutted if I have.
As our beloved Kami has pointed out, there's already been warnings not to expect too much, from Microsoft's Aaron Greenberg at least.
That said, the most compelling rumour I've heard for an appearance tonight is the return of a beloved series that's set for Xbox.
Who knows though? And this late in the day I'm certainly not going to spoil things.
Oh, one thing that is out there is that we will get the reveal of a new Smash Bros. character tonight - so that's something.
Will Nintendo have anything else to show? I'm being hyper optimistic, but wouldn't a new look at Breath of the Wild 2 be nice?
Oh man. I didn't miss the pre-show.
This is it. This is the pre-show.
Ah, we do get our first award of the night - the best soundtrack going to Final Fantasy 7, and deservedly so.
And we do also get a premiere.
Oh how to make sense of it all.
That big old fashioned I had just before this is beginning to feel like a bad idea.
I'm confused, basically, during this reel of new games from Devolver.
Happy to leave my bank details here if you want to throw me a few quid.
(Also there'll be more on that kind of thing in the first half of next year, I believe!)
Here's a trailer for the delightful Alba - there'll be a review on Eurogamer tomorrow morning.
I had an Alba stereo once.
They're one of those amazing brands, like Matsui, who do the proper Tandy-level stuff.
Here's another award - best action adventure.
On another note, I think this is the first time I've mixed whiskey with a live report and it is increasingly feeling like a mistake.
THE LAST OF US PART 2 WINS!
See, I told you that whiskey was a mistake.
Anyway, here's a game I will get right - Sea of Solitude, which is coming in director's cut form to Switch next year.
I was actually getting worried for a second there.
Bizarrely, Quantic Dream is publishing this version of Sea of Solitude - it was an EA thing first time around.
A new game here from Focus Interactive - Shady Part of Me. Oh, and it's out now!
Three award winners now! Best Family Game first up.
Anyway, Animal Crossing is the deserved winner of the family award, while Fall Guys bags the award for Best Community Support. Best Debut Game is up next.
It is a phenomenal world. I wish I'd been patient enough to wait for the next gen versions next year though!
An advert break, and a couple of eSports awards.
Which sounds like a toilet break if I've ever heard one.
Oh, we're back! That was quick.
A performance from the Persona 5 Strikers' soundtrack - which should be a nice wake-me-up.
Some absolute shreddage from that lad on a Flying V too - super into this.
Might have a little bop in my shed.
Oh, the gameplay of the Nier remake.
Got absolutely no idea what to expect from this, but let's have a gander.
It looks a lot more in line with Automata, which is to be expected.
Kiliko: Nier AuTomato, now there's a game that I wish I loved but find astoundingly dull.
Tried four times now, can never get it to click. Will try again some day!
And here's the debut of a new band, a Gorillaz-esque thing which seems a bit rote.
esports best talent now. I really might take a toilet break. Sorry.
League of Legends is the best esport, the best coach was the one from Cheers, the best esports event was the last time I got everyone round for a Mario Kart 8 session in my shed.
Also I'm best esports host because when you come to play Mario Kart around here there's beer, weed and everything.
Being confused about esports is a surefire way to reveal you're about to hit 40.
Anyway, Showmaker is the best esports athlete.
Hang on, I took a swig of whiskey and looked up and now there's a new Panzer Dragoon game?
Well, Century Age of Ashes to be precise. And not actually a Panzer Dragoon game. Looks mint, mind.
That was the pre-show. Which can only mean one thing.
His lapels have zips on them?
Am I seeing that right? Lapels with zips?
I know it's Cyberpunk week and whatnot but wtf.
I haven't even seen the sneakers yet!
No, and I'm actually legit looking forward to that.
Oh hang on here's the Smash reveal.
Straight in there with it - respect.
GEOFF KEIGHLEY IS THE NEXT SMASH CHARACTER!
Nah wait it's just Sepiroth.
Easy mistake to make tbf.
In other news it's really started to rain here in Lewisham and the sound of it pounding down on my shed is really quite soothing.
Still waiting to see Geoff's booties.
And here's Brie Larson presenting best performance.
Laura Bailey wins for her take on Abbey in The Last of Us Part 2.
Er, this is quite the speech.
I like the sound of her phone dinging in the background, mind, as she no doubt gets plenty of well-deserved congratulations.
That said, that speech was a bit.
It's a new team as well, I believe.
Ah, it's the new game from The Initiative - which is Microsoft's Santa Monica studio that's got talent from the likes of Crystal Dynamics and Naughty Dog.
And, yes, I think this one might be of interest.
So this is what I was alluding to earlier.
It's Perfect Dark, if you haven't guessed already.
Yes please thank you very much.
Just a cinematic and we don't know too much - other than some of the devs behind Tomb Raider and Uncharted are making a Perfect Dark gamer with a hefty slice of MS cash.
Which is enough to get me excited.
And as if that wasn't enough, here's a new Turtle Rock - the L4D/Evolve bunch - to keep my ticker going at quite the rate.
It looks every bit like Left4Dead 3.
So it's not Left4Dead, but they're doing everything they can to hold on to that legacy.
Holding on so tightly it looks a bit awkward to be quite honest.
Ah well, it'll play great I'm sure.
Yes, it is Left4Dead. Which is a great game to be fair!
I'm going with this game's title. I'm quite into those shoes.
Still can't believe you lot are letting the zips on those lapels slide.
I just can't even fathom their purpose.
Unless it's where you keep a cheeky bit of snifter.
An update on Scavengers! The one Improbable game that might actually not crash and burn?
There's a PC beta - it's actually a thing! It's looked really promising from all we've seen too, so here's hoping it can live up to its promise.
Something now from Sumo's Nottingham studio and Focus, which looks like a For Honor esque period-based multiplayer... thing.
Oh and it's based on Robin Hood, of course. They are based in Nottingham and all.
Thank you for the correction. And actually I'm about to pour myself another.
Here's the news that Cyberpunk's Quadra is coming to Forza Horizon 4.
Award time once more! It's best ongoing game.
No Man's Sky - well-deserved again!
And straight into another world premiere.
And also legitimately terrifying.
It's a CG trailer, though, so it's hard to understand too much what it is other than sci-fi and pretty.
The Callisto Protocol, from Striking Distance games, coming in 2022.
And it's Glen Schofield's new thing - I'm speaking to him tomorrow about this, so if there's anything you'd like to know, let me know!
Mostly I just want to luxuriate in Glen's presence though - he's an amazing man and also a hell of a cartoonist.
Sorry, was daydreaming about having a picnic with Glen when they showed off that Warhammer game. Also Ghosts of Tsushima won something. Hades won best action game. There's a VR award. What's going to win? It's Half-Life: Alyx.
Best racing game now. Wow they care less about these awards than we do the rate they're rattling through them.
Tony Hawk's is the best sport.
Elden Ring is the game you're looking forward to most. There's an award for that?
Here's a new Annapurna joint, anyway, called Open Roads - and holy fuck does it look gorgeous.
Yes! In the best possible way!
Let it be noted that I am truly appreciating your live report of Die Another Day throughout all this.
Right, no offence to Valorant, but I really am off for a quick toilet break.
I'm back! What did I miss?
DISCO ELYSIUM PLEASE COME TO SWITCH TODAY.
Maybe not just yet - The Final Cut coming next March, with PS4 and PS4 coming alongside the newly extended game.
Now for our look at the troubled Dragon Age 4 - I think we're getting a look at the new logo?
It looks like it's simply called Dragon Age.
Kiliko: see, I liked Inquisition, but after that and everything that's happened to Bioware since, who even has the energy to be excited about this?
Indeed.
Kiliko: it's Dragon Age cause the development has been DRAGging ON for an AGE waheyyyyyyyyyyyyyyyyyyyyyyyyyyyyyyyyyyy
*applause*
Endless Dungeon is a leftfield announcement - set in Amplitude's Endless universe, it's an action-focussed dungeon crawler with an exquisite artstyle. Looks fancy!
And now here's a look at Crimson Desert - it's from the Black Desert Online peeps, and looks just as impressive in its own way.
In fact, it looks outrageously impressive.
I've been playing Cyberpunk 2077 on console like I'm running an E3 demo, slow-panning at everything, to compensate for the performance.
We're seeing a lot more gameplay this year - some of it quite unpolished gameplay, which I still find infinitely preferable to CG trailers.
And even in its unfinished state, this looks grand as.
BTW when I popped back in the house for a slash I bought the whole bottle of bourbon back with me. Apologies, @Folie - the factual errors are about to go off the charts.
Kiliko: So this is Black Desert Offline?
Haha, basically yes.
There be Crimson Desert, from Pearl Abyss.
I'm trying to think of my fave crimson desserts.
I guess summer pudding counts?
Denzel Washington's son doesn't want to be doing this.
Yeah velvet cake is shit though isn't it?
The Last of Us Part 2 won another award, and there's another Naughty Dog speech going on.
I actually can't remember the last time I had a velvet cake though, maybe I should give them another shot.
Oh wait, the Swedish chef is here!
INSOMANiAC: Christ, we've gone low.
I think we've just gone high.
Well, I'm certainly contemplating getting high right now.
Folie: Tesco Finest Red Velvet to accompany an episode of Bake Off is as good as it gets
I'll give it a shot.
megatronix: I am high
*fistbump*
Anyway, Swedish Chef is now in Overcooked, I think.
I've been reading up on these red velvet cakes, and to be quite honest they sound basic as fuck.
What a bizarre thing The Game Awards is.
Also how bizarre that I'm totally alright to be up at 1am to watch an ad-reel. Video games are WILD!
Basically? Nothing new there, though it did give me a little tingle that it's not long until it's out.
Still haven't heard a reasonable excuse for those lapel zips.
But screw it, here's a live Mario soundtrack performance from Abbey Road.
Bowser's Fury deffo sounds a bit incognito browsing.
Ah shit, this gets me every time.
Can't listen to Gusty Garden Galaxy without tearing up a little.
A new premiere - and it includes a brilliantly-realised Realistic recorder and loads of nice vintage machinery.
This is funny - I was talking to Donlan earlier on about the Boku no Natsuyasumi series (he's reviewing Alba atm, which game me big Boku no Natsuyasumi vibes).
And Season has those same vibes too. Yes please very much thanks.
Kiliko: Getting Gal Gadot to present the inclusive/impact award was er, a choice...
*grimace*
Onwards! And a new game announce too.
IT'S VIN FUCKING DIESEL MOTHERFUCKERS.
Brace of him to turn up a year after rocking up on stage high as a kite and announcing the shitfest that was Fast and Furious Crossroads.
I'm team Vin all the way.
Is this Lionhead's BC back from the dead?
This is amazing - Vin Diesel going toe-to-toe with a T-Rex, because fuck yes.
I'm guessing this'll be a Tigon joint.
That being Vin's video game concern.
It looks like Dad of War meets Horizon Zero Dawn meets what the fuck
Well, there you go - Ark 2.
This might be the greatest 'but...' yet.
Oh and there's an animated Ark series coming.
With Michelle Yeoh, Gerard Butler, David Tennant and oh my god the Ark team made an awful lot of money I hope it hasn't gone to their heads.
Another new reveal, this time Elite Dangerous Odyssey with a use of Bowie I'm not particularly comfortable with.
GamesProgrammer: Late to the party any big awards given out yet?
We have found the one person who is here for the awards and not the reveals (hello!)
JorgeLuisBorges: What did I miss? Other than Martin being pissed...
*hic*
I guess this is Outriders, which looks like simple good fun but I worry it's being set up as more than that.
Indeed. Anyway, Fist looks great but somehow had me thinking of 90s shareware side-scrollers like Ninja Rabbits.
INSOMANiAC: Someone PLEASE tell me when this ends
It never ends.
Nolan North you're amazing but you're too old to do this distressed denim thing.
You can afford a nice pair of slacks from Cos or something.
Oh hang on here's another award. Among Us wins best multiplayer!
And this is a genuinely beautiful moment as a team who've experienced quite the year gets their moment in the spotlight. Beautiful!
Here's a new game reveal!
And it's an Evil Dead game?
Really, really up for that.
Bruce Campbell features, obviously.
And my lord I am so, so up for this.
Can you get a better b-lister than an Evil Dead game though?
A remake now, and a Capcom one - ah, it's Ghouls and Goblins, or whatever you call it in your part of the world.
It still looks absolutely bastard hard for its Switch remake that's coming next February.
BEST INDEPENDENT GAME AWARD NOW AWARD LOVERS.
God it's embarrassing how much the Game Awards hates giving out awards.
Best RPG is Final Fantasy 7 Remake.
MS Flight Sim wins best sim and they are rattling through this so quickly.
Player's Choice is Ghost of Tsushima.
And we have best fighting game, with Cobra Kai's leads taking us through the winners in a terrible skit.
Ralph Macchio's house suggests he's doing alright for himself though.
He was so good in Crossroads.
I bet he can still shred too.
Ah, our first look at MS Flighjt Sim running on console!
Oh man, this game really is something special.
And I think it could work wonderfully on console too.
Also I still cry when I hear this song, mostly because of when they used it at the end of the admittedly not very good TV adaptation of Hitchhiker's Guide to the Galaxy.
Kami: Think we might get to bed before 4am this year?
Sleep is for the weak.
Next summer for MS Flight Sim on console. Be excite.
This, I believe, is Returnal? Housemarque's new thing, which is reason enough to be excited.
That it's them branching out for something on a grander palette than they've worked with before is very exciting.
INSOMANiAC: When that screeching Irishman appears I'm off.
Understandable.
It's really raining quite a lot here in Lewisham right now.
Well, we're back with The Game Awards.
No matter what you say about Geoff's shoes, they sure look comfy.
Ah here's the coke fiend!
Anyway, here's his new thing which is a thing.
It looks like it takes Fares' co-op thing into new territory - namely that of two people figuring out the finer points of their long-term relationship.
And it looks pretty good.
There you go: It Takes Two. From Geoff's mate Josef.
Here's Reggie for some meme-based content.
Ah, and an award for accessibility.
An admirable award, and the innovation in accessibility award has gone to The Last of Part 2.
Kami: those blinds get pulled the moment this bit is done...
Haha.
Again it's amazing to be pulled into an award-winner's house and to hear their phone pinging with congrats messages.
Not quite sure how there can be another hour of this.
Or indeed if I can stay awake another hour. Maybe time to make the switch to coffee.
A quick ad for Destiny 2 Beyond Light there.
I gave the next-gen version a quick blast earlier - it looks splendid as.
Destiny? Never heard of it.
Kiliko: Beyond Light released on Game Pass on release day (!) and still no one seems to give a fuck about it. Proper fell flat didn't it?
Timing wasn't great - I think most publications were focussed on next-gen/Cyberpunk.
Was about to berate the Game Awards once again for just being an excruciatingly bland reel of ads.
But hey it's nearly Xmas so what's the point.
Also I'm the sucker out in my shed live-reporting this nonsense while Geoff is out there with his lapel zips concealing all that upnose so I'm the real loser.
Mobile gaming section here, which I know you lot love.
Ah, Among Us wins - another excuse to cut to the adorable devs who are having a hell of a night.
Monster Hunter Rise on Switch - probably the game I'm looking forward to most in 2021 - gets a new trailer.
It's the RE Engine's debut on Switch (and the series' debut in RE Engine).
It might, in its own way, be more important to the future of the series as MH World. I can't wait!
Content creator of the year is coming up soon! Is it me? Did you all nominate me?
Didn't think so, you jerks.
Speaking of jerks! Here's Troy Baker.
He truly is in love with the smell of the gas that he emits from his arsehole.
Here's Eddie Vedder tho, which is a nice move in the right direction.
The guitar is near and Eddie is very far away.
Kiliko: hope Eddie decides to liven this up a little bit and just explosively belt out Even Flow during this very Sincere™ moment
I'd be so up for that.
Anyway, that was a heartfelt rendition. Also apologies to Troy Baker for being a bit mean there.
Focus, again - they're having quite the showcase tonight.
It's from Shadow Warriors devs Flying Wild Hog, and it looks suitably over-the-top.
Evil West there for you - coming in 2021.
Are you on the herbal or have you gone hardcore and caffeinated?
A pretty good one at that.
I do find it hard to take Facebook seriously as an agent for encouraging better mental health though.
An absolutely appalling HP Omen ad too which alludes to... No, best I don't type it out.
Anyway, that's me never touching an HP device again. Good work!
An Among Us map reveal now. Being old I haven't played Among Us that much, sorry.
Oh Geoff is in Among Us now too.
A bit of column a, a bit of column b?
Adobe's Content Creator of the Year is Valkyrae.
A Fortnite reveal now, courtesy of the Mustard.
As expected - it's Master Chief who's coming to Fortnite.
Some Red vs. Blue shenanigans to accompany the news .
But yes this is appalling.
I've always been old. It's great.
Kiliko: drink every time he says awesome
I'm already so drunk tho...
Blood Gulch in Fortnite is pretty awesome, mind.
35 minutes left. Can I get through all this.
A man called Cascade who is speaking in the oddest cadence suggests I cannot.
What is he doing with his hands. Why is he pointing so much.
I apologise, it's Kaskade.
This has been a particularly weak show - understandable, given the conditions it was produced under.
Doesn't make it any easier to power through the nonsense at 2.30am though.
Hold on, here's Just Cause for mobile to perk things up.
You do begin to question your life choices though when it's half two in the morning and you're doing live updates of a three-hour long ad.
Would anyone object if I just did a bit of heroin and went to go and sit quietly in the corner?
Ruined King, one of Riot's new wave of games, gets an outing.
Keanu Reeves is here to present best game direction.
His animation routines look a bit broken.
Keep expecting him to be caught in a t-pose.
The Last of Us Part 2 wins the best direction award, and Neil Druckmann is here to take the honours.
Here's an advert for GTA Online.
This is all of us right now.
I think I say the same every year. And yet here we are again.
Another quick ad for the Medal of Honor VR game.
INSOMANiAC: There's me, Martin and Kami here. Every single year. Every single live presentation shit. We have nothing else in life. We plan our lives around these events.
I do it all for the two of you, you beautiful people.
Do you think Geoff has done double knots on those shoes?
Oh wait here's another premiere.
I still don't know how you graciously tie a pair of shoes tho- you can have a pair of the best brogues in the world, but it's all for naught if you do some kind of clown bow on them when tying them up.
Hold on, we're getting a Mass Effect Trailer.
And it is simply Mass Effect.
Hmm - like Dragon Age before it, it's hard to get too excited given the state of BioWare at the moment.
Given how far out that game is, and how little we know about Dragon Age, I'm not sure how smart it was to show it.
Game of the year now, presented by Christopher Nolan.
Despite my cattiness, I do think it's been a wonderful year for video games - and they've been there for us when we really needed them.
The Last of Us Part 2 wins.
Well, that was that - a low-key show this year, understandably so.
I still hate myself for being up this late for a three-hour long advert though.
Congrats to all the winners - they're all well-deserved in what's been a trying year.
Thanks for joining us. And thanks Kami and INSOMANiAC, you utter loons. Same time again next year, yeah?
The truth. And also there's your quote!
And with that good night and god bless.