The entire E3 Metro: Last Light demo on video
Does it rekindle memories if Half-Life 2, as THQ hopes?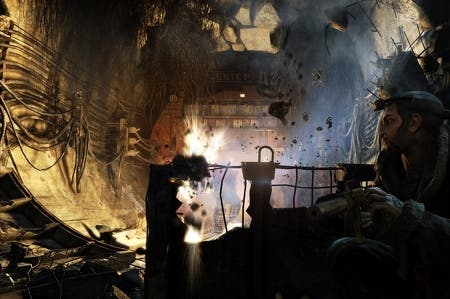 No, it's not a free newspaper given out on London trains, Metro: Last Light is a spooky and atmospheric shooter made by 4A Games for THQ.
Predecessor Metro 2033 was a delightful surprise, and earned 8/10 on Eurogamer back in 2010. So there are high hopes for the successor.
This Welcome to Moscow demo was the full presentation given to press at E3. There's no editing. It's 13 minutes long.
In this footage, main character Artyom is forced into an alliance with a Red Line officer called Pavel. Together, they must venture across the post-apocalyptic Moscow surface in order to get to the relative safety of the station city, The Theatre. Dun, dun, dun.
Metro: Last Light is coming to PC, PS3 and Xbox 360 in 2013. THQ hopes it will remind you Half-Life 2.