Telltale's Walking Dead seasons 2 and 3 are finally available on Switch
And all four seasons return to Steam tomorrow.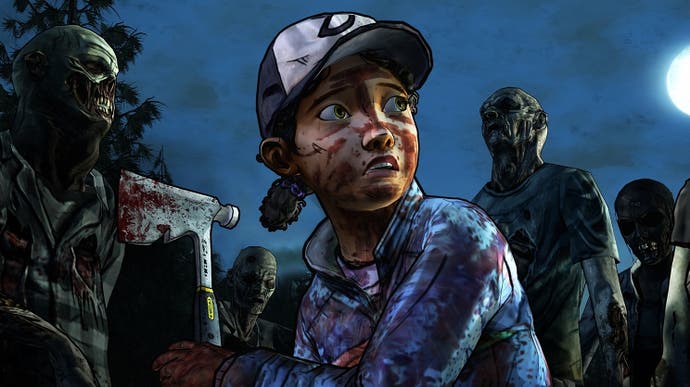 Switch owners can, at long last, enjoy developer Telltale's critically acclaimed Walking Dead video game series in full; as of today, 21st January, seasons two and three are finally available to purchase via the eShop. Additionally, all four seasons will be returning to Steam tomorrow.
The Walking Dead video games haven't, it's fair to say, had the smoothest of landings on Switch. The series' complete first season - alongside the opening episode of its fourth (and final) season - launched on the platform all the way back in August 2018. However, plans to publish the remaining two seasons were halted when, a month later, Telltale unfortunately announced significant lay-offs in preparation for a majority studio closure.
Since then, Walking Dead creator Robert Kirkman's Skybound Entertainment has taken over publishing duties for Telltale's Walking Dead games, and the company initially announced that season two and The Walking Dead: A New Frontier (as season three is known) would finally debut on Switch in September 2019. Regrettably, both games were delayed at the last possible moment for reasons unexplained at the time.
All of which brings us to today, and finally, four months later than expected, The Walking Dead seasons one and two have surprise-launched on Nintendo's eShop, meaning that Switch owners can finally continue the inevitably traumatic adventures of Clementine and friends as they attempt to navigate the zombie apocalypse.
Those eager to resume their harrowing journey on Switch can pick up The Walking Dead: Season Two and A New Frontier, both consisting of five episodes, for £12.99 apiece.
As for Steam, all four seasons were delisted from Valve's platform following Telltale's demise, only to re-emerge later, under the guardianship of Skybound, as Epic Game Store exclusives. That exclusivity period has clearly now come to an end, however, and Steam users will be able to buy the games once more, starting tomorrow, 22nd January.