Telltale's cookie-cutter mechanics make Minecraft: Story Mode familiar fun
Another run around the block.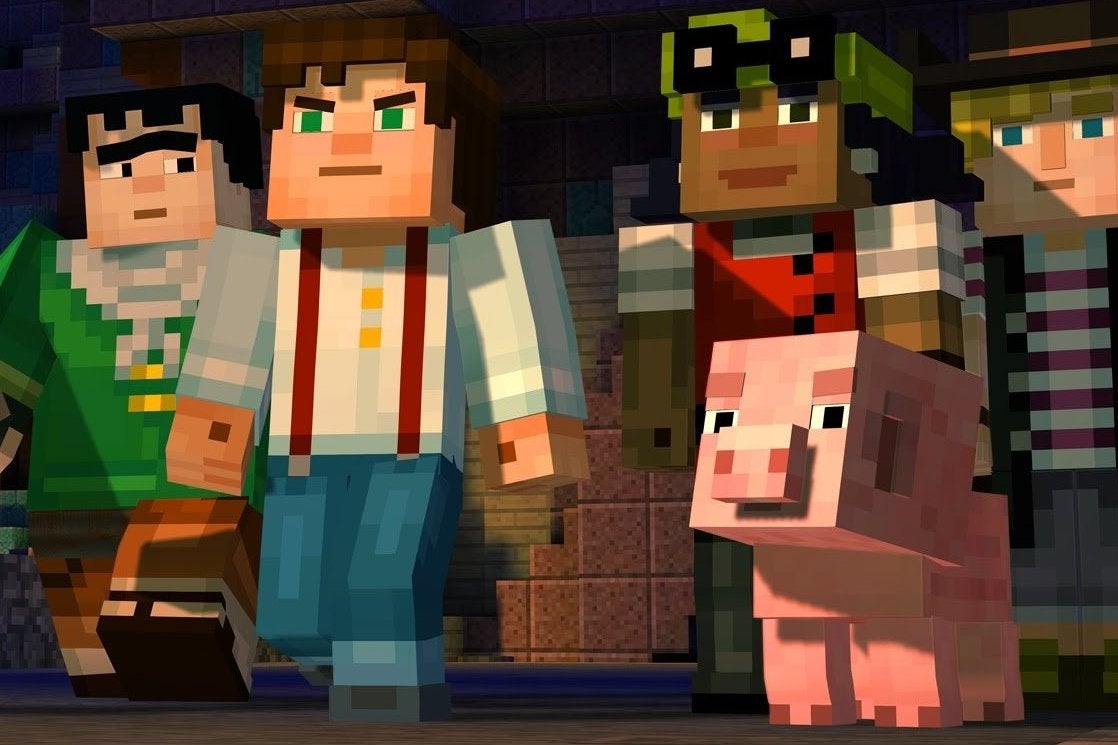 How do you craft the world's most well-known sandbox game into a single-player narrative? Like everything in Minecraft, you start off with a recipe.
If you've played The Walking Dead, The Wolf Among Us or any of Telltale's other recent series then the formula of Minecraft: Story Mode should be immediately familiar. Its make-up is several measures of story, a couple of characters with uncertain allegiances, and the usual sprinkling of choices that you are sternly warned will be remembered. Minecraft fans hoping for a little more leniency from Telltale's way of making games may begin the experience feeling a little downhearted.
Story Mode closely follows the guided narrative structure of its Telltale predecessors, while the original Minecraft's open-ended open-world gameplay is largely treated as a backdrop. The trees might be made of Minecraft's digital oak and green leaf cubes, but they may as well be the forests from Game of Thrones for the similarity of yet another Telltale 'walking through the woods' dialogue scene. Any actual building of structures is limited to QTE events where characters zip around the screen laying blocks, while the rare moment you can craft an object you do so simply by placing down a couple of items on screen from your limited Telltale-sized inventory.
But all of this does the game something of a disservice. What Story Mode lacks in creativity it makes up for with a witty script, and in the way it lays out the fantasy of living within one of Minecraft's worlds. It has layers of in-jokes as thick as any subterranean seam of ore and if the actual Minecraft is what you want then, well, there's a game out there that already does that. Story Mode's main character Jesse (which can be either male or female, a Telltale first) is just a regular blocky inhabitant of Minecraft's blocky world, and there are shades of The Lego Movie's Emmet in the portrayal of an average young guy (or girl) simply trying to get by in amongst extraordinary surroundings. Jesse has friends to try and please, bullies to try and stop and a scene-stealing pet pig named Reuben who regularly needs saving from trouble.
The game opens with Jesse and friends planning their trip to the local building convention (which looks strangely similar to the real-world Minecon) where the gang soon become wrapped up in much larger events, including the legend of four heroes that saved the Minecraft world many years ago. Story Mode's major difference from other recent Telltale output is its intended audience range, which skews far lower than The Walking Dead or even the cartoony Tales from the Borderlands. Despite a 12+ rating on its front cover, Episode One feels very much intended for all ages, something which includes Minecraft's youngest fans. It is something of a return to roots for Telltale, which cut its cloth handling franchises like Wallace & Gromit, or Saturday afternoon matinee adventure fare with LucasArts licenses such as Monkey Island and Sam & Max.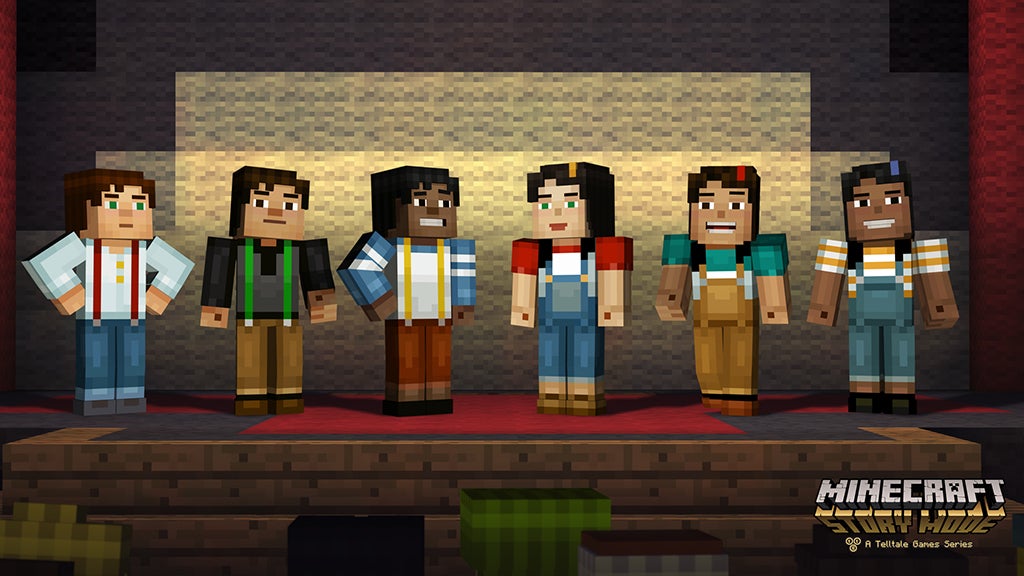 Story Mode is light-hearted and forgiving, with simple puzzles that generally just require an exploration of your surroundings, and very little opportunity to actually mess things up. Again, this can be a negative - the sense of threat in many situations is alleviated when you realise that a failed QTE actually just leads to a slightly-changed version of the subsequent cut-scene. But any lingering sense of doubt over whether one of your choices has really affected the game's narrative is soon quickly glossed over by another well-landed joke or visual Reuben gag.
The next four weeks see the launch of three Telltale episodes, as Minecraft: Story Mode's season overlaps with the finales for the developer's Game of Thrones and Tales from the Borderlands series. Telltale also has its upcoming The Walking Dead: Michonne mini-series ready to launch just after Christmas and a third full season of the post-apocalyptic survival horror also in pre-production. Also on the horizon are longer-term projects, such as 2017's untitled Marvel series and its ambitious-sounding TV/video game "Super Show" concept, which is set to launch with Telltale's first original IP in collaboration with Lions Gate Entertainment.
With all this on the horizon it's easy to cast a somewhat sceptical eye over the similarities seen in Minecraft: Story Mode, even with its distracting humour and charm. Mechanically you are left with a feeling that there was room for Telltale to - finally - stretch its template a little further than its standard 'side with one character or the other' choices. And if it didn't do so here, with the most open-ended licence going, then it may never. Like all recipes, if you have tried the end result too often then its taste may wear a little thin. But for lapsed Telltale fans or young Minecraft aficionados, Story Mode's opener is an enjoyable first bite.
We'll review the full season of Minecraft: Story Mode once all episodes are released.