"Europe is kind of a big deal for us." Katsuhiro Harada, producer of Tekken 6, is eager to point out that this visit to London is much more than a matter of courtesy. While the latest title in Namco's esteemed 3D fighting lineage dominates Japanese arcades, more than 90 per cent of Tekken's console sales come from the West. Of these, more than half of the series' 33 million sales were made to Europeans, who were responsible for almost two thirds of Tekken 5's global sales. As far as Harada, his team and his game's autumn release on PlayStation 3 and Xbox 360 are concerned, Europe is kind of a big deal.
This importance has been heightened by the fighting game resurgence sparked by Street Fighter IV's overwhelming success on consoles. More gamers than ever are interested in fighting games, willing to take a chance on a genre that may have previously seemed impenetrable and exclusive. And Tekken has always provided a middle ground for those players for whom Virtual Fighter seems too technical, or Street Fighter too frenetic, providing an everyman experience that places just as much focus on over-the-top throws and acrobatics as frame-counting elitism. As such, its release is well-timed to ride the crest of Street Fighter IV's success, even if the two offer very different experiences.
But despite the debt that the current zeitgeist owes Ryu et al, Harada is dismissive of the threat Capcom's latest poses his game. "Street Fighter IV came to arcades six months after we released Tekken 6 and, right from the off, it only achieved around half of the income we were taking in Japanese arcades. Today Tekken 6 remains the most popular fighting game throughout Japan, long after its initial release. I think Capcom's mistake in this regard was leaving such a long gap between releases. With Tekken, we keep a fairly steady flow of new titles coming, something that helps keep the brand in the public consciousness and keeps the more serious players invested."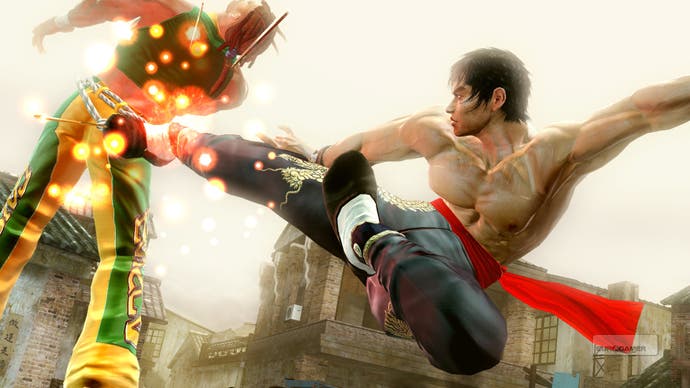 Some might argue that the regularity of new Tekken titles has resulted in a general ennui towards the brand. Where once upon a time Tekken was a system-seller for Sony, showcasing the cutting edge of graphical achievement on the original PlayStation, today the technological steps are too small and too frequent to make much impact. "I disagree," says Harada. "Tekken 6 is the first game in the series to maintain a constant 60 frames per second during play. This is an extraordinary technical achievement that greatly effects the way the game plays." For Harada, it seems, this is a far more important selling point than effects or flashy camera angles. "Many fighting games run at 30 frames per second but, no matter how impressive their visuals are, the underlying implications of the frame-rate are much greater."
That's not to say Tekken 6 is devoid of effects or visual bombast. The team is clearly very proud of the new 'full-time variable animation' effect it's added to the game, a filter that blurs the transition of character animation between each and every frame, increasing and decreasing the intensity of the effect depending on the speed of a character's limbs and the force of an impact. Now every transition from kick to punch appears natural and fluid in a way that makes its predecessors seem jerky and stuttering. When combined with the other visual upgrades included in Tekken 6's arcade revision, Bloodline Rebellion (upon which this home version is based), the effect is impressive. Here day turns to night during battles, a setting sun casting hazy shadows through the air behind characters, the dramatic lighting emphasising the drama of each bout, the evening air rippling with the force of each counter blow.