Switch battery case with HDMI port doubles its Kickstarter goal in two days
No dock needed. Extends the battery life by 4.5 hours.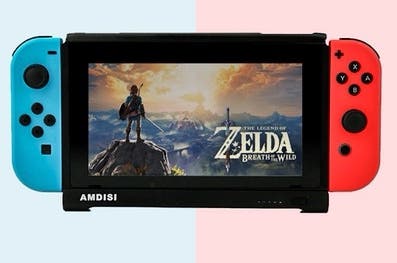 Gaming peripheral manufacturer AMDISI has successfully Kickstarted a Switch case that extends the handheld's battery life and replaces the need for a bulky dock.
The Pelda Pro case offers an additional 4.5 hours of playtime with a 6000mAh battery that straps onto the back of your Nintendo Switch. Better yet, it includes an HDMI port, so you can plug the Switch directly into the TV without the need for a bulky dock.
There's also a simpler version that doesn't include the HDMI port. Simply called the Pelda, this budget model offers a 8000mAh battery that's expected to boost your play time by six hours.
Both cases come with a couple of slots to hold extra games, along with a much stronger kickstand and two USB ports for additional charging options.
AMDISI's third peripheral, the Pelda Dock, is a more minimalist rendition of the Switch dock that doesn't have a front or bulky back, but rather operates as a scaled down stand.
The Pelda currently goes for $45, though it's expected to retail for $89 at launch.
Comparatively, the Pelda Pro, the one with the HDMI port, goes for $95 right now, though they're slated to cost $139 at launch.
Just the Pelda Dock currently goes for $69, with an $89 price tag planned at launch.
AMDISI has already released a few Switch products, notably a kit consisting of a case, screen protector, and Joy-Con controller grips. While I've not tried any AMDISI accesories myself, this set has extremely positive reviews on Amazon.
All of the Pelda products have collectively crowdfunded $19,033 on Kickstarter, nearly doubling AMDISI's $10k goal - and that's all within the first two days! The campaign still has another 27 to go before its 21st September deadline.
AMDISI is aiming to ship all of these Pelda peripherals in January 2018.