Surgeon Simulator comes to iPad tonight, sans one arm
UPDATE: New multiplayer mode adds competitive operations.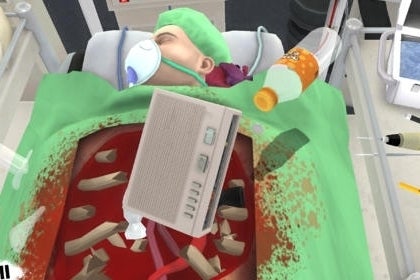 UPDATE 13/03/2014: We've heard back from Bossa about Surgeon Simulator's multiplayer. According to the developer, this new mode has two players compete with each other to complete a surgery the fastest.
"When you've successfully paired with an opponent one player at random will have the choice of surgery to perform from the four available," the developer told Eurogamer. "Once they start the game both players will begin the operation at the same time."
"The race isn't over until somebody actually does a successful operation so losing a patient doesn't count as losing the match, it simply means you have to start again on a new Bob [patient]," Bossa added. "Text prompts will tell you what the other player is up to so you can get an idea on who's in the lead and act accordingly!"
[Editor's note: We originally reported that the multiplayer would be co-operative. We've since received clarification on how it operates and apologise for that error.]
ORIGINAL STORY: 12/03/2014: Bossa Studios' wonderfully wonky physics-based surgery simulator, Surgeon Simulator 2013, is coming to iPad tonight, minus the "2013".
That's not the only thing missing from this version as in adapting Surgeon Simulator for the touch screen Bossa decided to remove player character Nigel Burke's left arm. Knowing him, I'm going to assume he accidentally lopped it off after an unfortunate Pringles incident.
But it's not all omitted assets this time around as Surgeon Simulator's iPad version hosts some neat additions, like new eye and teeth transplant operations.
Also new to this version is the ability to record and upload videos of your malpractice mayhem, though this feature is only available on iPads 4 and up.
The game's iTunes listing said there will be multiplayer, but it's unclear what exactly this entails. The brief description simply noted "Show your friends who's the boss. It's a good day to save lives," so it might just be referring to leaderboards. I've requested clarification from Bossa about this and will update once I hear back. (This might take awhile as the Bossa crew is at the BAFTAs tonight, where Surgeon Simulator 2013 just lost out to Papers, Please in the "Best Strategy and Simulation" category.)
This mobile rendition of the recent comedy classic has already launched in New Zealand and is currently making its rounds across the globe. According to PocketGamer, this mobile version of Surgeon Simulator will cost £3.99 / $5.99.
Eurogamer Frasier aficionado Chris Donlan quite liked Surgeon Simulator 2013. "Surgeon Simulator is a joke game, as it happens, but its joke is a pretty good one," he said in his review of the PC version. Furthermore, you can play the Surgeon Simulator prototype for free, as the title was born from a 48 hour game jam.