Surgeon Simulator 2 is out at the end of August
PC only at first, via the Epic Games Store.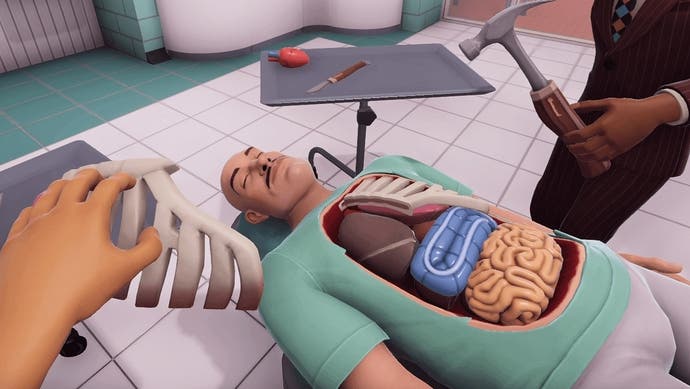 Dangerously unqualified wannabe-doctors eager to embark on another bout of wobble-handed medical malpractice will finally have their dubious dreams come true on 29th August, when Surgeon Simulator 2 arrives on PC via the Epic Games Store.
As you'd imagine, comically imprecise controls and physics-based surgery still appear to be at the heart of developer Bossa Studios' sequel, but everything around that familiar core has been significantly expanded for this second outing. There's co-op support for up to four players, for starters, and the new Story Mode promises considerably more elaborate puzzle-based gameplay away from the operating table, as participants explore a massive medical facility.
Perhaps the most significant addition, however, and the one that has the potential to massively increase the longevity of Surgeon Simulator 2, is the new Creation Mode level editor. This provides players (and up to three friends working alongside them) with the tools required to fashion devious new challenges and other miscellaneous experiences that can be shared online.
There's a closer look at the possibilities Creation Mode affords - including player-built surgical challenges, dancehalls, and bowling alleys - in the new trailer above.
Surgeon Simulator 2 will cost £19.99/$24.99 when it comes to the Epic Games Store on August 27th. That includes the base game, the Mad Scientist cosmetic set, and access to the closed beta, which runs from 7th-9th August.