Superb platformer Monster Boy and the Cursed Kingdom heading to PC in July
And there's a demo out now.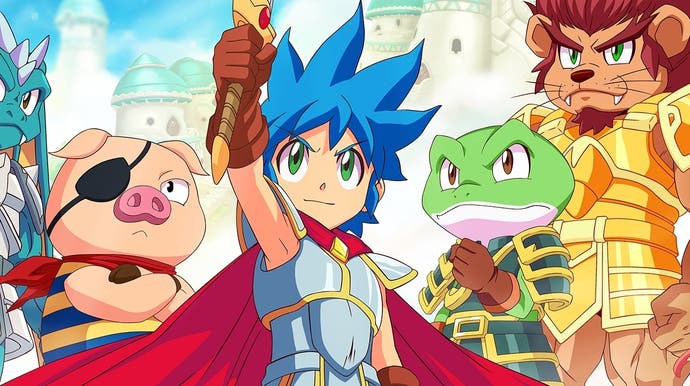 Developer Game Atelier's superb Wonder Boy 3 spiritual successor Monster Boy and the Cursed Kingdom is finally heading to PC, with a Steam and GOG release now confirmed for 25th July.
Monster Boy and the Cursed Kingdom (not to be confused with Lizardcube's sublime Wonder Boy 3 remake, Wonder Boy: The Dragon's Trap) initially launched on Switch, Xbox One, and PlayStation 4 late last year, where it was met with immediate acclaim - so confirmation of a PC release date, although long-promised, is well overdue.
And if you've even a passing interest in 2D platformers, Monster Boy is well worth your consideration, taking the Wonder Boy series' familiar transformation mechanic and spinning it out into a gorgeously presented, ceaselessly inventive adventure.
Monster Boy adopts Wonder Boy 3's RPG-meets-Metroidvania template, with players gradually gaining access to new areas from a central hub as new animal transformations are revealed. It's Monster Boy's ingenious level design that really sets it apart though, blending traditional platforming with wonderfully constructed, increasingly elaborate puzzles, cleverly built around the ability to switch between transformations (and their distinct powers) on-the-fly.
"It's all handled with such care," said Christian Donlan in his Eurogamer Recommended review, "every ability is a delight to use, every backdrop makes the world richer and more evocative, every new tune manages to find a way to riff on an old classic you suddenly discover that you semi-remember. And even if you don't remember, it all stands up. If you're eleven right now and coming to this game with no understanding of its strange lineage, it's still an absolute treat, a good-natured adventure filled with glittering challenge."
And if you'd like to take Monster Boy and the Cursed Kingdom for a whirl prior to its 25th July release on PC, you've that option too. A demo is currently available on Steam.