Monster Boy and the Cursed Kingdom lets you match menu colours with your new Switch Lite
Courtesy of latest update.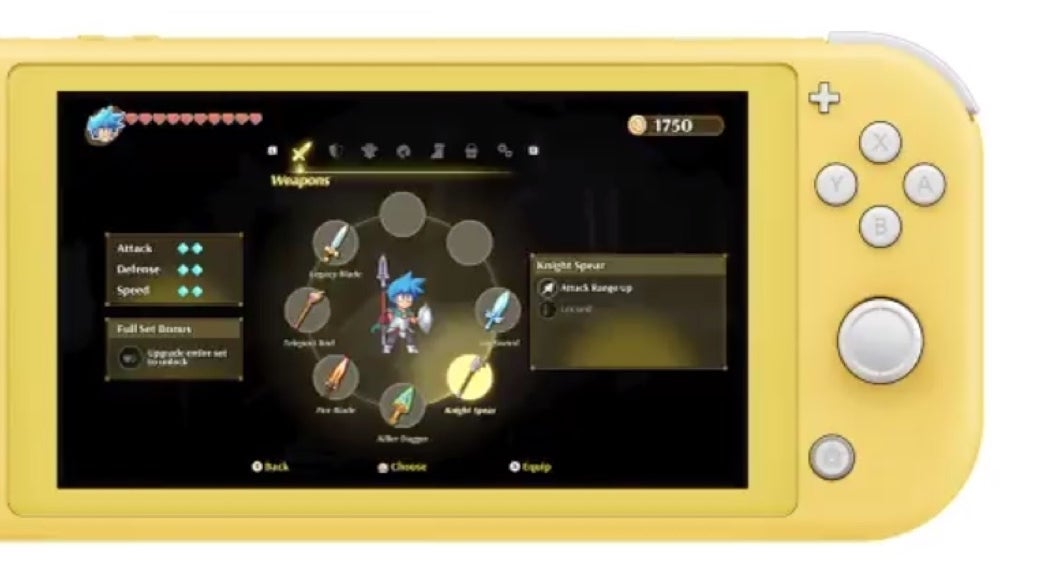 Tired of your boring old UI entirely failing to coordinate precisely with the colour of your newly purchased Nintonsole? Well, then you now have another reason to rush out and purchase a copy of Game Atelier's wonderful platformer Monster Boy and the Cursed Kingom.
The developer has just released a brand-new patch - update 1.0.5 if you're a fan of precision digits - that enables owners of the new Switch Lite to colour coordinate Monster Boy's menus to their heart's content - and then some. Not only does it include yellow, turquoise, and grey UI options to match Switch Lite's current line-up, it even throws in red, pink, and green too.
What's more, you don't need to worry if you've only got one of them old-fangled original Switches - the colour tweakery can be enjoyed across all systems. And while, yes, it's perhaps not the most revelatory of updates, it's a neat addition, and another cute little bit of attention to detail in a game that's already awash with wonderful touches.
Monster Boy and the Cursed Kingdom, if you've not yet had the pleasure, is a genuine delight, reimagining Wonder Boy 3's RPG-meets-Metroidvania template for the modern era. It's packed with top-notch level design - blending traditional platforming with increasingly elaborate puzzling - that manages to finds ever-more imaginative uses for the game's core animal-transformation mechanic. Oh and it looks and sounds gorgeous too.
"It's all handled with such care," said Christian Donlan in his Eurogamer Recommended review, "every ability is a delight to use, every backdrop makes the world richer and more evocative, every new tune manages to find a way to riff on an old classic you suddenly discover that you semi-remember. And even if you don't remember, it all stands up. If you're eleven right now and coming to this game with no understanding of its strange lineage, it's still an absolute treat, a good-natured adventure filled with glittering challenge."
And now you can have all that in a package that exactly matches your console shell. Truly, this is the grandest of days.