Monster Boy and the Cursed Kingdom is getting a demo on Switch this week
Little wonder.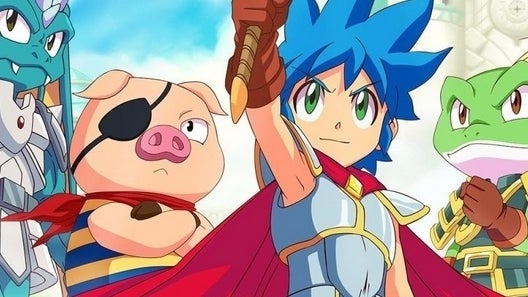 If you've been on the fence about developer Game Atelier's astonishingly good Wonder Boy revival Monster Boy and the Cursed Kingdom (I'll try not to judge), you might be interested to know that it's getting a demo on Switch this week. Perhaps it might sway you!
A Cursed Kingdom demo has been promised for some time, but a recent tweet by Publisher FDG Entertainment confirmed that it will finally arrive on Switch's eShop this Thursday, March 14th. There's no word on what it will contain, but the tweet briefly made me think FDG was revealing a Monster Boy amiibo. Which, I now know, is a thing I would very much like to see.
For those unfamiliar with Monster Boy and the Cursed Kingdom (not to be confused with Lizardcube's sublime, but rather more traditional Wonder Boy 3 remake, Wonder Boy: The Dragon's Trap), it's a brilliant thing, taking the series' familiar transformation mechanic and spinning it out into breathlessly inventive, and rather more modern experience.
Functioning as a sort of spiritual successor to Wonder Boy 3 rather than a straight-up remake, it builds upon its inspiration's RPG-meets-Metroidvania formula in all sorts of interesting ways. There are, for instance, distinct new animal transformations, which once again open up access to exotic new locales as as you explore outward from the central hub area. However, each has dramatically different abilities and can be switched between on-the-fly, enabling Game Atelier to play with the kind of game Monster Boy is at any given moment - and the end result is as heavy on the ingenious puzzle moments as it is platforming and action.
"It's all handled with such care, too," explained Christian Donlan in his Eurogamer Recommended review, "every ability is a delight to use, every backdrop makes the world richer and more evocative, every new tune manages to find a way to riff on an old classic you suddenly discover that you semi-remember. And even if you don't remember, it all stands up. If you're eleven right now and coming to this game with no understanding of its strange lineage, it's still an absolute treat, a good-natured adventure filled with glittering challenge."
You'll hopefully be able to get a small taste of that yourself when Monster Boy and the Cursed Kingdom's demo arrives on Switch this week - FDG says it will "consider the demo for other consoles later". Additionally, the publisher has reassured PC players that the game is still on the way, although there's no release date on the platform just yet.