Super Mario Bros. Movie post-credit scene hints at potential sequel, Chris Pratt says
Accepts voice criticism due to "passionate fan base".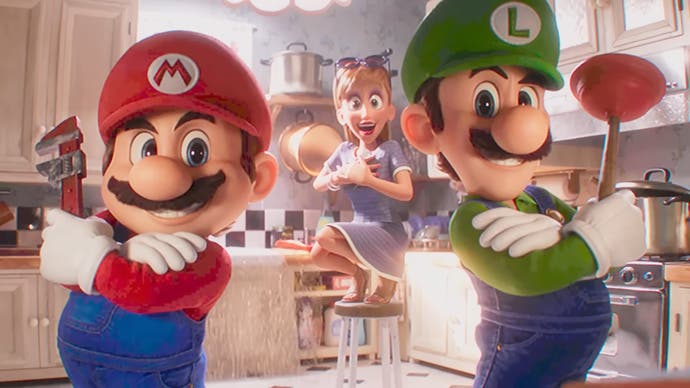 Mario movie voice actor Chris Pratt says you should stick around after the film ends for a post-credit scene which hints at a potential sequel.
Without going into detail on what the scene might contain, Pratt did suggest that it was one direction a second Mario movie could continue in - if this one was a success.
In a round of press interviews ahead of the film's impending premiere, Pratt also spoke about the mixed response his casting had been given from some Nintendo fans - who Pratt described as "passionate".
"I totally get it, man," Pratt told io9. "There's a passionate fan base and I'm one of the fans. I get it. Mostly, people don't want something like this to get screwed up. They're precious about it. They're careful. And I'm grateful for that."
In a separate interview, Donkey Kong voice actor Seth Rogen addressed the fact that his vocal talents in trailers so far have simply sounded... a lot like Seth Rogen.
"I was very clear, I don't do voices," Rogen told Comicbook. "And if you want me to be in this movie, it's gonna sound like me and that's it [laughs]. And that was the beginning and end of that conversation.
"I was like, 'If you want Donkey Kong to sound a lot like me, I'm your guy.' But it did seem to work, you know, I think in the film and in the game I think all you really know about Donkey Kong is that he throws barrels and he does not like Mario very much."
Discussing that post-credits scene and other directions for a potential sequel, Pratt told CBR that there had been discussions about a Luigi's Mansion idea.
"Listen, there's like, at the end of the film, there's a post-credit sequence that gives you a taste of what the sequel could be about," Pratt said. "And that gets me very, very excited. But there's been talk of Luigi's Mansion. That was a Gamecube game. I think that would be great."
Talk of a Mario post-credits scene reminds me of Sonic's own post-credits scene teasing the appearance of a certain other hedgehog.
Who has Nintendo left out of this film to be used in a sequel? Wario? Waluigi? Birdo?!