Sunless Sea spiritual successor A House of Many Doors doubles Kickstarter goal
Reserve it for £5. Demo available now.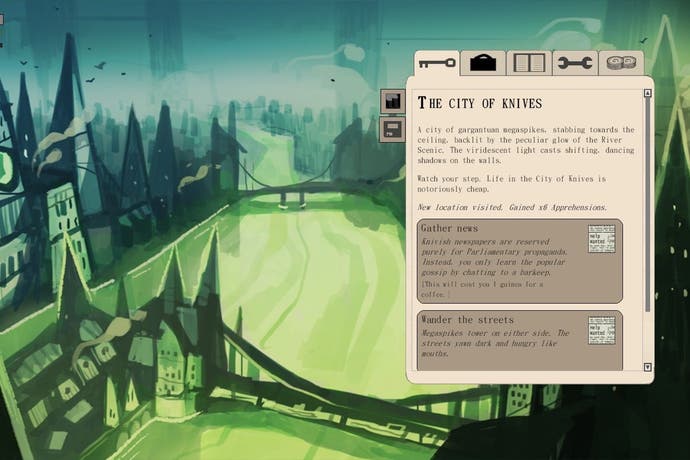 A House of Many Doors is a 2D exploration RPG that may resemble Sunless Sea and there's a reason for that: developer Harry Tuffs was not only inspired by Failbetter's seafaring steampunk roguelike, he's working from the developer's office.
While Tuffs has Failbetter's permission and advice, he's clear that this is his project and the Sunless Sea developer is simply providing guidance (along with fruit and coffee).
A House of Many Doors puts you in the role of a poet, explorer and spy set on exploring the titular House, which is actually a "vast parasite dimension that steals from other worlds." In other words, it's a procedurally- generated nightmare realm.
Given its scope, you must explore the House via a many-legged train where you assemble a ragtag crew. Your goal is to discover the purpose of the House, who built it, and how to escape from it.
Amusingly, throughout your travels you'll compose procedurally-generated poetry. "The Troglodyte Vomiting of the Mirrors," "An Elegy on the Reluctant Hell of Grief," and "Ode to the Strangling Toad" are all examples listed on the game's Kickstarter page.
The real star of the show is the House itself. While its shape morphs with each playthrough, its rooms will consist of authored stories and quests. "In these cavernous rooms you might find cities or ruins or ten-mile-high abomination gods made of inexpertly conjoined crows," Tuffs noted, giving us a sense of the sort of madcap monstrosities that lie within each compartment of this ominous abode.
Each character you meet will have their own complex narrative with ulterior motives. You'll have to communicate with them, suss out their secrets, build their morale, and recruit them on your mystery train. Each character can die, though, so it's up to you to see each NPC's arch through to the end.
Combat will take place in real-time, but allow you to pause whenever to switch out your crew members' placements and reposition your train. Vehicles you encounter will consist of biomechanical flesh-wagons, gigantic beetles, and hollowed corpses of gods, just to name a few.
If it all sounds too Sunless Sea, Tuff's noted that "Failbetter Games have agreed to give me a firm nudge if they ever feel my game is too similar to Sunless Sea for their liking. But they still believe in the game and are supporting it."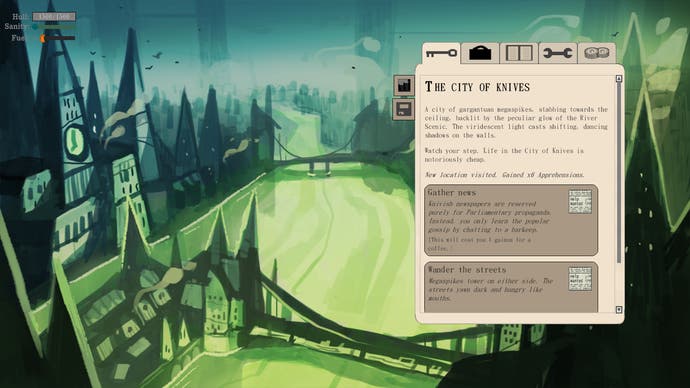 A House of Many Doors' Kickstarter ends on 2nd October, but it's already doubled its $6158 goal with $14,154 and it still has another 60 hours to go.
You can reserve a copy of A House of Many Doors ahead of its estimated July 2016 launch on PC and Mac for £5.
There's even a Windows demo available here.