Streaming service xCloud joins Xbox Game Pass in September
But only free with its Ultimate version.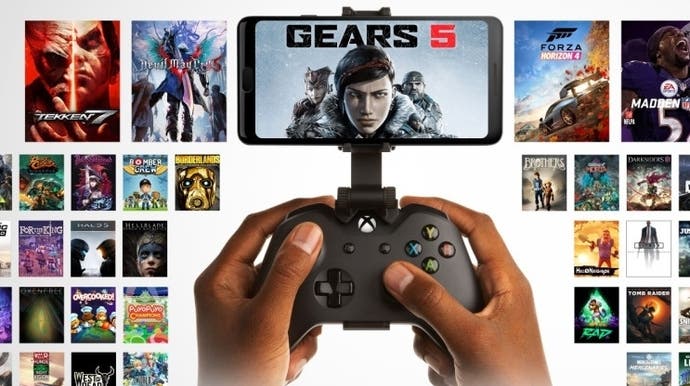 Xbox game streaming service xCloud will be folded into Xbox Game Pass this September "at no additional cost to Xbox Game Pass Ultimate members".
Microsoft previously announced xCloud would become part of Game Pass at some point this year, though many had expected it would simply be included with the subscription's base offering.
Right now, Xbox Game Pass costs £7.99 per month for either a PC or console subscription, or £10.99 per month for Xbox Game Pass Ultimate, which wraps together PC, console and Xbox Live Gold as well (on its own, a separate £6.99 monthly cost).
100 games will be available for streaming via a smartphone or tablet. More than 50 are currently in xCloud's preview program, including Halo 5, Destiny 2, Dragon Age Inquisition.
The news comes as part of a new Xbox Wire post extolling the various virtues of sticking with Xbox - or converting - ahead of the next console generation.
Penned by Xbox boss Phil Spencer, the blog states that with Xbox "you won't be forced into the next generation" - a pointed nod at Sony, and its recent comments that PS5 games will only be playable on PS5.
"We want every Xbox player to play all the new games from Xbox Game Studios," Spencer wrote. "That's why Xbox Game Studios titles we release in the next couple of years - like Halo Infinite - will be available and play great on Xbox Series X and Xbox One. We won't force you to upgrade to Xbox Series X at launch to play Xbox exclusives.
"Your Xbox One gaming accessories come into the future with you, too," Spencer continued. "The Xbox Elite Controller and Xbox Adaptive Controller all work on Xbox Series X, so you don't have to purchase new controllers. Unlike others, we believe that your investments in gaming should move with you into the next generation." Meow.
Meanwhile, Spencer said Microsoft intends for all Xbox One games that do not require Kinect to play on Xbox Series X at the launch of the console. "And because of the unprecedented power of Xbox Series X, most of your favourite games will load faster and look and perform many times better on the new console," he added.
We've asked Microsoft for more information on how much xCloud will cost if you don't have the Ultimate version of an Xbox Game Pass subscription - and if it is indeed available separately.