Star Wars: The Old Republic has lost 400,000 subs since February
But strong digital sales help EA back into annual profit.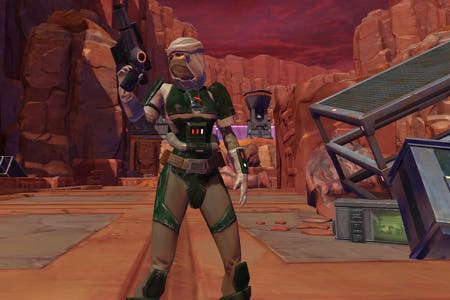 Star Wars: The Old Republic currently has 1.3 million active subscribers, publisher EA has announced.
That's a sizable drop on the 1.7 million reported in February.
The figure comes out of its annual financial report, released earlier today, which saw the publisher boast net annual income of $76 million, compared to a loss of $276 million this time last year.
Total revenue for the fiscal year came in at $4.14 billion, up from $3.59 billion 12 months ago.
EA noted "strong results" for traditional boxed products such as Mass Effect 3, SSX and Kingdoms of Amalur, but put the focus squarely on digital.
FIFA 12 had its best year ever, raking in $108 million in downloads and microtransactions, while full game downloads were up 76 per cent year-on-year, contributing $60 million to its coffers over the last three months. Meanwhile, EA's Play4Free brand is currently bringing in $2 million a month.
Total digital revenue for the year was $1.2 billion, up 42 per cent.
Battlefield 3 is still going great guns too - 6.3 million gamers logged in during March alone.
"We are proud to report a strong quarter and a fiscal year highlighted with $1.2 billion of digital revenue," commented CEO John Riccitiello.
"In the coming year, we break away from the pack, with a very different profile than the traditional game companies and capabilities that none of our new digital competitors can match."
Elsewhere in its report, EA revealed plans to invest $80 million over the next year "in development of games for Gen4 console systems."