Space Quest creators making new sci-fi adventure
Two Guys From Andromeda return.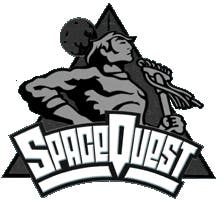 The creators of the Space Quest series are making a new science fiction adventure game.
Mark Crowe and Scott Murphy, the Two Guys From Andromeda, announced the new project with a video, below, and a new website.
Space Quest was a series of comedy sci-fi adventure games that began in 1986 with the Sierra On-Line published Space Quest: The Sarien Encounter. It stars Roger Wilco, a janitor who travels across the galaxy, and parodies the likes of Star Wars and Star Trek. The last game in the series was the sixth, Roger Wilco in The Spinal Frontier, which launched in 1995.
Little is known about the new game, save it is a sci-fi themed adventure, but the pair promised an update soon. For now their focus is drumming up interest in the new project and getting fans to discuss and share it on social media.
"Our philosophy was originally to make games that we would like to play and that, ultimately, you would as well," they said. "We aren't straying from what has been a successful formula. We're back to make more while also incorporating what we've learned from you via comments made from the days of snail-mail and moving to email and social media. It's been interesting to learn what you've found fun, funny and/or annoying, and what games you've favored. Clearly, not everyone has well rated taste but we can work around that."