Sony shocks world and announces PS3 super duper Slim
Enough to undermine Wii U sales this Christmas?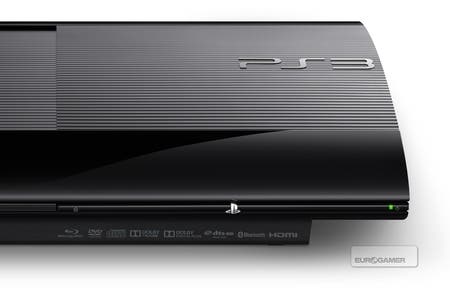 Sony's early-morning (UK time) Tokyo Game Conference kicked off with the abrupt announcement of the heavily rumoured PS3 super duper slim.
The console weighs only 2.1kg; it's half as heavy as the fatty pants original PS3, and 25 per cent smaller and 20 per cent lighter than the PS3 Slim. And it's got a sliding disc cover.
UK shoppers will have two buying options: a 500GB model that arrives on 28th September, or a 12GB flash memory model that arrives on 12th October.
The 500GB model will come bundled with a game for €299.99. Sony named FIFA 13, Assassin's Creed 3 and Wonderbook: Book of Spells as examples of bundled games. The FIFA 13 bundle will be exclusive to GAME.
The 12GB flash memory model will be standalone hardware and cost €229.99. A dedicated 250GB hard-drive will be released at the same time. A vertical stand will also be available - does that mean the new console can't stand upright unaided?
UK prices aren't given, because Sony no longer sets shop prices here. So price will be dictated by individual shops.
€299.99 tends to translate to around £279.99, and €229.99 will probably become £199.99. Roughly the price of a Wii U, in other words, which poses a conundrum for shoppers this Christmas.
HMV is first to show its hand. There, a 12GB super duper slim PS3 will cost £184.99, and a 500GB super duper slim PS3 will cost £249.99.
GAME prices are the same, a rep told Eurogamer. But if you trade-in a "selected" console, you could discount the 500GB model by as much as half price. There's no trade-in offer on the 12GB model.
Helping fight Sony's corner against the Wii U will be a new PS3 Essentials - budget - range of games, which will tie-in with the PS3 super duper slim launch. In shops, Essentials cost €19.99; to download, if available, these cost €14.99.
A list of the games included follows. Asterisks mark downloadable games.
First-party games:
Uncharted: Drake's Fortune*
Resistance Fall of Man
inFamous*
MotorStorm
Heavenly Sword
MAG*
God of War 3
LittleBigPlanet*
Ratchet & Clank: Tools of Destruction
ModNation Racers*
Sports Champions*
EyePet & Friends
Start The Party!
DanceStar Party!
Medieval Moves*
Move Fitness*
The Fight*
Third-party games:

Assassin's Creed 2*
Assassin's Creed*
Assassin's Creed Brotherhood*
Far Cry 2*
Prince of Persia*
Driver San Francisco*
Tom Clancy's Rainbow Six: Vegas 2*
James Cameron's Avatar: The Game*
Prince of Persia - The Forgotten Sands*
Call of Juarez: Bound in Blood*
Tom Clancy's Ghost Recon: Advanced Warfighter 2*
Brothers In Arms: Hell's Highway
Tom Clancy's H.A.W.X
Deus Ex: Human Revolution*
Tomb Raider: Underworld*
Just Cause 2*
Sniper: Ghost Warrior
Tekken 6
SEGA Mega Drive: Ultimate Collection
Sonic Unleashed
Virtua Fighter 5
Darksiders: Wrath Of War*
Homefront: Ultimate Edition*
Japan, incidentally, gets a white PS3 super duper slim as well. It arrives a bit later in November, and only has 250GB storage. And now for some super boring specs:

PlayStation (CECH-4000 series)
Product name - PlayStation 3
Release date - UK: September 28th, 2012 (HDD 500GB), October 12th , 2012 (Flash Memory 12GB)
Product code - CECH-4000series (Charcoal Black / Classic White)
CPU - Cell Broadband Engine
GPU - RSX
Audio output - LPCM 7.1ch, Dolby Digital, Dolby Digital Plus, Dolby TrueHD, DTS, DTS-HD, AAC.
Memory - 256MB XDR Main RAM, 256MB GDDR3 VRAM
Storage size - CECH-4000A: Flash Memory 12GB, CECH-4000B: HDD 500GB1
Inputs/Outputs - USB 2.0
Networking - Ethernet (10BASE-T, 100BASE-TX, 1000BASE-T) × 1, IEEE 802.11 b/g, Bluetooth® 2.0 (EDR)
Controller - Wireless Controller Bluetooth
AV output - Resolution: 1080p, 1080i, 720p, 480p, 480i (for PAL 576p, 576i)
HDMI OUT connector - 1
AV MULTI OUT connector - 1
Digital out (optical) connector - 1
BD/DVD/CD drive (read only)
Maximum read rate - BD × 2 (BD-ROM), DVD × 8 (DVD-ROM), CD × 24 (CD-ROM)
Power - AC 220 - 240, 50/60Hz
Power consumption - Approx. 190W
External dimensions - (excluding maximum projecting part ) Approx. 290 × 60 × 230 mm (width × height × length)
Mass - Approx. 2.1kg
Included - PlayStation 3 system × 1, Wireless Controller (DualShock 3) × 1, AC power cord × 1, AV cable × 1, USB cable × 1