Sony confirms PlayStation All-Stars Battle Royale
First screens, debut trailer.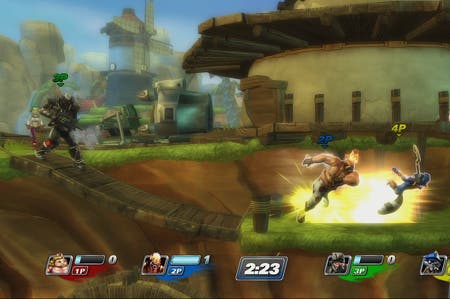 Sony has confirmed its answer to Smash Bros.: PlayStation All-Stars Battle Royale.
It's a four-player, 2D brawler exclusive to PlayStation 3 and due out later this year. Characters include Kratos, Parappa the Rapper, Fat Princess, and Sweet Tooth.
It's also developer SuperBot Entertainment's debut game - indeed the studio was handpicked to create the fighter. "PlayStation All-Stars Battle Royale existed as an idea in the hearts of gamers way before SuperBot got around to making it, and the expectations of the fans are really what drive us," game director Omar Kendall said. "This game is a labor of love, and we're excited to be able to finally show it."
In the game familiar PlayStation mascots duke it out on a 2D plane, akin to the gameplay in Nintendo's much-loved Smash Bros. Series. "There are probably a few types of games that can be enjoyed by four players simultaneously, but for us at SuperBot, a brawler was the obvious choice for one really good reason: the developers here at SuperBot really like fighting games," Kendall said.
"We love playing them and we love making them. With PlayStation All-Stars Battle Royale, we set out to make an experience accessible enough for all PlayStation fans to enjoy while also creating something deep enough for the serious fighting game aficionado. We think this 'accessible yet deep' strategy is the perfect way to bring PlayStation fans of all stripes together."
There's a focus on online play, which features a tournament mode, but there are modes for single and multiplayer. You can compete against each other or play co-op.