Sony announces Project Morpheus virtual reality headset for PlayStation 4
First official image released, prototype specs announced.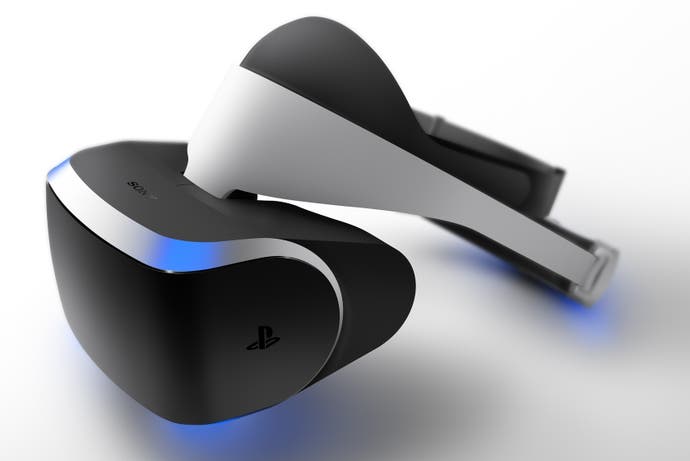 Sony has announced Project Morpheus, its virtual reality headset for PlayStation 4. It's a prototype for now, but Sony intends to develop it further for a commercial launch.
Morpheus is a visor style head-mounted display that works with the PlayStation Camera to deliver a virtual reality experience. Inertial sensors are built into the head mount unit and the Camera, which the headset requires to work, tracks head orientation and movement so as the player's head rotates the image of the virtual world rotates in real-time.
It also works with the PS Move motion controller. Morpheus reproduces the player's hands and sword, for example, within the game so the player feels like they are physically fighting enemies.
3D audio comes from the front, behind, left and right, recreating stereoscopic sounds heard from below and above.
At the Game Developers Conference this week Sony is showing off the tech with a demo of CCP's space dogfighting game Eve Valkyrie, which is also in development for rival VR headset Oculus Rift, Eidos Montreal's Thief and a couple of its own tech demos: The Castle, which uses the Move controller, and The Deep, which lets you observe waters from inside a shark proof cage.
Below are the current specifications of the prototype. Sony stressed they are subject to change:
Component: Processor unit, head-mounted unit
Display Method: LCD
Panel Size: 5 inches
Panel Resolution: 1920×RGB×1080 (960×RGB×1080 per eye)
Field of View: 90 degrees
Sensors: Accelerometer, Gyroscope
Connection interface: HDMI + USB
Function: 3D audio, Social Screen
Sony Worldwide Studios boss Shuhei Yoshida said: "At SCE we view innovation as an opportunity to build on our mission to push the boundaries of play.
"Project Morpheus is the latest example of innovation from SCE, and we're looking forward to its continued development and the games that will be created as development kits get into the hands of content creators."