Someone hacked GTA Online to tease a fake GTA6 release date
Rockstar confirms it is a "hoax".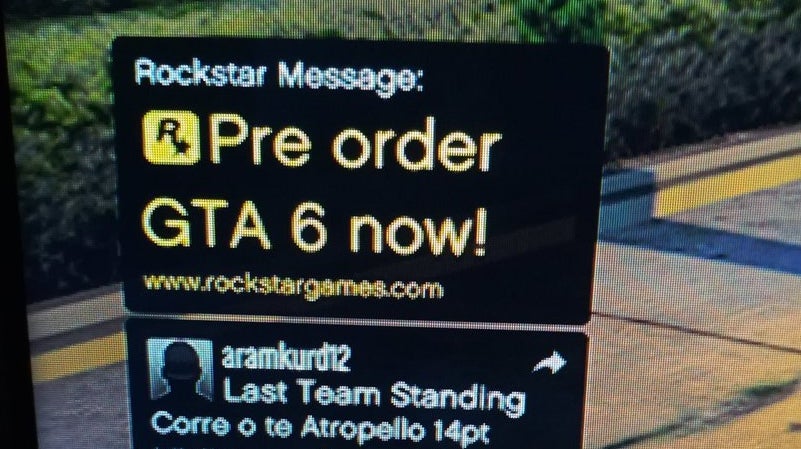 GTA is well known for its jokes and spoofs, but this week it would appear someone has beaten Rockstar at its own game by falsely advertising the next installment in the GTA series.
Over the past few days, GTA Online players have seen messages supposedly advertising GTA6 appear on the side of their screens. On the surface, the announcements appeared to be fairly legitimate: they used a font similar to the official Rockstar branding, and even included a link to Rockstar's website.
Unsurprisingly, this was enough to hoodwink many players, who were ecstatic at the news of a new GTA game and rushed to Twitter to express their excitement.
Yet not everyone was convinced by the fancy fonts. On Reddit, theories emerged to try to explain the mysterious messages. Some users (correctly) speculated the hoax stemmed from mods, as the notifications only appeared on moddable platforms such as PC and last generation consoles. Other users highlighted a GTA6 release date in 2019 was unlikely due to an overlap with Rockstar's other major upcoming release, Red Dead Redemption 2.
To the sadness of many, the cynics were revealed to be on the correct side of history. Taking to Twitter, Rockstar confirmed the notifications were indeed a hoax. The likely culprits appear to be modders, who seem to have successfully targeted the game's announcement system to distribute the bogus messages.
This is a hoax made with the use of mods, and not an official message or statement from Rockstar Games. *OV

— Rockstar Support (@RockstarSupport) July 2, 2018
Although GTA fans must return to waiting for (real) GTA6 news, one thing is certain: Rockstar now have a solid blueprint for their GTA advertising campaign, whenever the true release date may be.