Shovel Knight's retail release delayed two weeks
Xbox One physical version canned.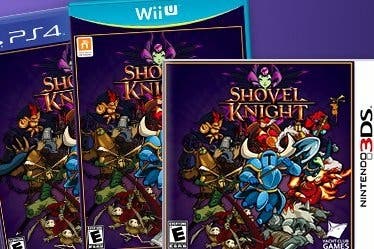 Shovel Knight's retail release was originally scheduled for next week, but it's just been delayed a fortnight. Now it's set for 30th October in Europe and 3rd November in North America on 3DS, Wii U, PS4, and PC. (Note: The PC version is Europe only.)
Unfortunately, the Xbox One retail release has been canned.
"We really gave it our best effort, but unfortunately, because of publishing policies on that platform that are totally beyond our control, we couldn't make it happen," developer Yacht Club Games said in a new blog post. "We're very sorry...we know there is a lot of interest - the pre-orders were really good and we thank everyone for their support!"
"We'll keep fighting to get a retail version on Xbox One, but as of now, the boxed version is in indefinite limbo," the studio added. On the plus side, it's already available digitally on Microsoft's platform.

The Vita version's retail release has also been delayed to sometime in 2016. "We are still working our hardest to make it possible," Yacht Club said. "Hang in there a bit longer, and hopefully we can make something happen!"
There's more bad news: Yacht Club Games decided to raise the retail release's suggested price from $19.99 (about £13) to $24.99 (about £16). This decision was funded less by greed and more by exposure as several retailers told the studio that shelf space was a limited and that a game under $20 would only be featured in a bargain bin.
"Some retailers ran into trouble with limited space to show off their wares, and the rules in place about where games with certain prices are displayed," the studio explained. "We didn't want our 'bargain priced' game to go straight to the bargain bin of obscurity, so we had to raise the price."
It's not all doom and gloom though, as Shovel Knight's retail release will contain a code for a free soundtrack download. Granted the soundtrack is already a pay-what-you-want affair, but the download code allows you to snag the full thing guilt free.
The Shovel Knight Amiibo is still in development, though Yacht Club doesn't yet have a release window to announce.
Shovel Knight's retail release will contain the core game and its massive second add-on campaign, Plague of Shadows, wherein you play as the villainous Plague Knight. It's really damn good.