Shovel Knight is getting a retail release
Has sold over 700K copies.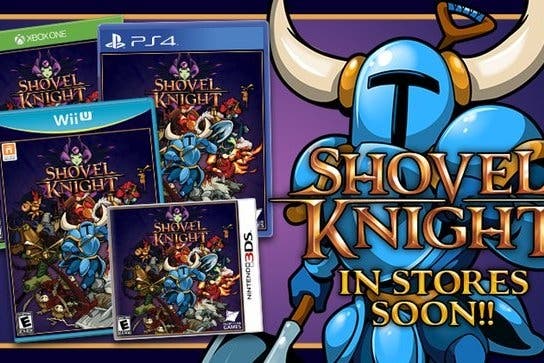 Retro platformer Shovel Knight is getting a retail release this October on 3DS, Wii U, PS4, Xbox One and PC. The PC version is Europe only.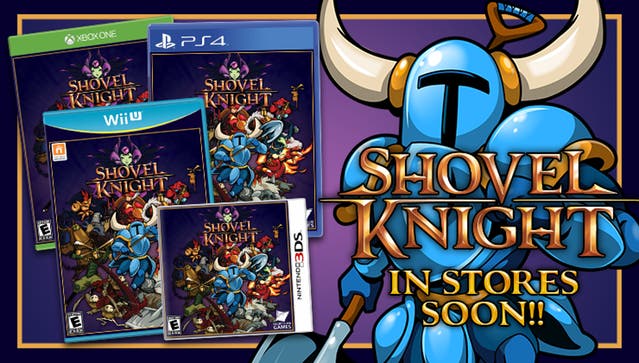 North Americans will receive it on 13th October, while the UK and Europe will have to wait until 16th October due to the whole Tuesday/Friday thing that dictates retail releases.
Shovel Knight developer Yacht Club Games noted its debut effort sold a staggering 700,000 copies. That's over four times Yacht Club's original lifetime estimate of shifting 150K units. Not bad for a small team that raised $311,502 for the game on Kickstarter, even if that team was mostly comprised of former WayForward (Mighty Switch Force, BloodRayne: Betrayal) staff.
Shovel Knight's retail edition will contain the full game, its upcoming Plague of Shadows expansion, and a Challenge mode with more than 50 gauntlets for players to overcome. It will also include a full instruction manual.
"No 2-page inserts here," Yacht Clubs boasted on its blog. "You deserve a full manual, to hold in your hot little shaking hands and pore over as you wait to get home!"
The retail edition will naturally allow access to future free updates as well. These include campaigns for the Specter and King Knights, a Body Swap mode that allows you to alter the gender of the game's cast, and a four-player Battle Mode (exclusive to the Wii U, PS4, Xbox One and PC).
In regards to when Plague of Shadows will arrive, Yacht Club stated, "This free update will definitely hit digital platforms before the boxed version. We're in the home stretch and are polishing every detail, pixel, and potion right now."
Since Shovel Knight was so successful, Yacht Club can afford to publish this retail version mostly on its own, though it will be working with distributor U&I Entertainment to actually get the game in stores.
Retailers receiving Shovel Knight mentioned by Yacht Club so far includes Best Buy, Wal-Mart, Target, GameStop and Amazon.
Here's a brief gif teasing how the upcoming Battle Mode is coming along: